Through a Screen Darkly: Psychoanalytic Reflections During the Pandemic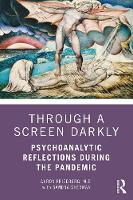 Book Details
Publisher : Routledge
Published : May 2021
Cover : Paperback
Pages : 198
Category :
Psychoanalysis
Catalogue No : 95622
ISBN 13 : 9780367764043
ISBN 10 : 9780367764
Also by Ahron Friedberg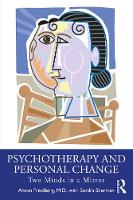 This book offers real-time, intimate reflections on Dr. Friedberg's patients as they struggle with COVID-19 and its disruptive, dispiriting fallout.
Through a Screen Darkly identifies the psychological distress caused by the pandemic, examining how the particular elements of COVID-19 - its ability to be spread by those who seem not to have it, its intractability, the long-term uncertainty that it engenders - leave even relatively stable people shaken and unsure of the future. The book examines how, amidst radical uncertainty and the prospect of massive social change, such people learn to become resilient. The main theme of the book is that, of necessity, we learn to adapt. Though we still can only see "darkly," we can call on the resources that we have, as well as those we can reasonably acquire, so as to retain a sense of our dignity and purpose. Through a Screen Darkly examines what is possible now as the pandemic runs its course. It makes no predictions of how all this will ultimately play out, but offers a time capsule of how people have coped with a disease that landed suddenly and that we still do not fully understand.
Offering a series of intense encounters with worried, traumatized people, this book will be invaluable to in-training and practicing psychiatrists, as it points to the several possible directions for our national, psychological recovery from the pandemic.
Reviews and Endorsements
'I have wholehearted admiration for this extraordinary volume by noted psychiatrist and psychoanalyst, Ahron Friedberg. It should be of great interest to psychiatric patients and psychiatrists alike. It could also be subtitled "love in the time of the COVID pandemic." The pandemic crisis transformed the close face-to-face therapeutic situation into a remote screen-to-screen encounter. As the pandemic is both danger and opportunity, the dark screen, paradoxically, shines a bright light on both therapeutic participants. Enlightened by his own struggles with the pandemic, Friedberg compellingly renders the existential dramas and unique narratives of his patients and teaches them to cope with the crisis, to maintain hope and resilience, to cultivate new contacts and connections, to discover new meanings in their lives and loves.' - Henry Zvi Lothane, MD, Clinical Professor of Psychiatry at Icahn School of Medicine at Mount Sinai.

'Through a Screen Darkly is a remarkable achievement. In elegant, precise prose it captures the personal suffering of individuals during the pandemic while rendering the universality of their condition. Each essay is a version of how any of us could experience these new complexities that will, one way or another, determine all our futures. Dr. Friedberg's practice has been at the epicenter of the pandemic for several months, and he saw it all - guilt, grief, fear, feistiness, and self-reinvention. He helped people find their way towards some kind of accommodation with post-COVID reality. His account of this straitened reality is, therefore, tempered with possibility and hope. As we make our way through these dark times, this inspiring book will become an essential read.' - David Forrest, MD, Clinical Professor of Psychiatry, Columbia University.

'Through a Screen Darkly is a beautifully-written exploration of the human psyche as it struggles with the uncertainty, anxiety, and fear prompted by the pandemic. It is timely and fascinating. Dr. Friedberg's patients navigate from the initial shock of lockdown, to venturing out into a 'new normal,' and ultimately to resilience. A Screen portrays the latest incarnation of an ancient human challenge: to psychologically adapt to change and, even better, to learn how to thrive within it.' - Heather Berlin, Ph.D., M.P.H., Neuroscientist and Assistant Clinical Professor of Psychiatry, Icahn School of Medicine Mount Sinai.

'As a literature professor and poet, I am engaged with many issues in this book from perspectives very different from the author's - for example, writing poems about Covid-19. So, I'm indebted to this impressive collection for its valuable new insights, notably its readings of literature. And Through a Screen Darkly illuminates our personal experiences of the pandemic - we've seen the movie, now read the book.' Heather Dubrow, Ph.D., John D. Boyd SJ Chair in Poetic Imagination, Fordham University.
About the Author(s)
Ahron Friedberg, M.D., is Clinical Professor of Psychiatry at Mount Sinai Icahn School of Medicine, New York, and served twice as President of the American Society of Psychoanalytic Physicians. He is Editor of American Academy of Psychodynamic Psychiatry and Psychoanalysis Forum, Book Editor of Psychodynamic Psychiatry, and a regular contributor to Psychology Today. Sandra Sherman, J.D., Ph.D., was a Senior Attorney in the U.S. government and Professor of English at two major universities. She is the author of four books and over 60 peer-reviewed articles on 18th-century literature and culture and has co-authored several books on neuroscience. She currently works with scientists and physicians to support their research and writing.
You may also like