Wild Thoughts Searching for a Thinker: A Clinical Application of W.R. Bion's Theories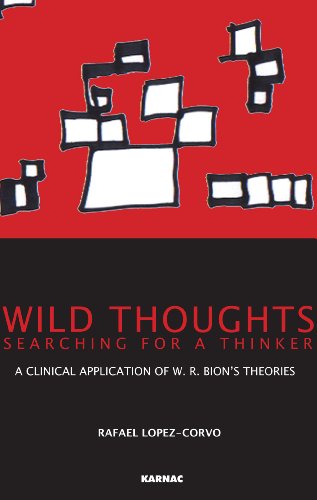 Book Details
Publisher : Routledge
Published : 2006
Cover : Paperback
Pages : 240
Category :
Psychoanalysis
Catalogue No : 22711
ISBN 13 : 9781855754003
ISBN 10 : 1855754002
Also by Rafael E. Lopez-Corvo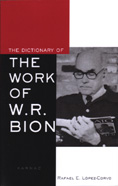 Freud, Klein and Bion have provided the most relevant and substantial contributions to psychoanalytical theory and praxis. Klein was very much Freudian and Bion was both. There is undoubtedly a progressive epistemological evolution in their creativity; it will be similar to observe the same phenomenon by changing the objective of a microscope from a lower to a higher resolution power. It will be of lesser advantage for the understanding of the mind, to disregard this analogy and to accept as true that psychoanalysis, like religion, represents different beliefs. There is only one mind, but different viewers.
Wild Thoughts Searching for a Thinker is essentially a clinical book that explores the connections between some of Bion's novel theories and those from Classical Psychoanalysis, mainly contributions from Freud, Klein and Winnicott. It also represents a substantial endeavour to make Bion not only more accessible to readers, but also and very important, to see his theories at work, in direct practical use during the here and now interaction throughout the consulting hour. Clinicians and theoreticians interested in Bions work as well as in psychoanalysis in general, will find the original approach used in this book extremely valuable.
Reviews and Endorsements
'Bion's formidable psychoanalytic theories have begun to take center stage in the international world of psychoanalysis and psychotherapy. Some aspects of them are well-known. Others remain obscure and perplexing to many. Dr López-Corvo has contributed a superb and faithful rendition of the entirety of Bion's complex episteme and has grounded his laudable work in clinical applications. His contribution raises the bar on Bion's studies scholarship. It is immensely useful and constitutes a worthy sequel to his "Dictionary of the Work of W.R. Bion". "Wild Thoughts Searching for a Thinker" belongs in every psychoanalyst's and psychotherapist's library.'
- James S. Grotstein, MD

'With an impressive number of interdisciplinary tools Dr López-Corvo continues his multifaceted exploration of Bion's theory, and buttressed by ample case materials, flushes out the ways that a mind may be murdered or enhanced.'
- Patrick Mahony, PhD, Training Analyst, Canadian Institute of Psychoanalysis

About the Author(s)
Rafael E. Lopez-Corvo is a training and supervising psychoanalyst of the Venezuelan and Canadian Psychoanalytic Societies. He was associate professor at McGill University, Montreal, Canada, and a former member of the editorial board of the International Journal of Psychoanalysis. He maintains a private practice of psychoanalysis in Toronto, Canada.
You may also like