The Dictionary of the Work of W.R. Bion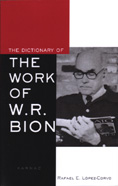 Book Details
Publisher : Routledge
Published : 2005
Cover : Paperback
Pages : 352
Category :
Psychoanalysis
Catalogue No : 21508
ISBN 13 : 9781855753389
ISBN 10 : 1855753383
Also by Rafael E. Lopez-Corvo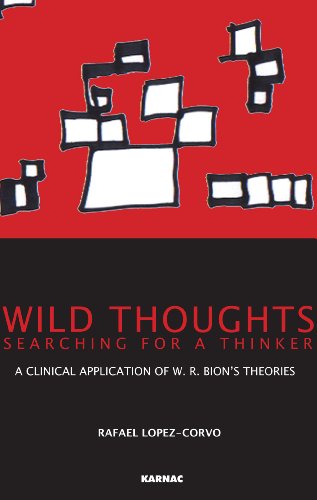 This impressive work constitutes an important and timely addition to existing dictionaries of psychoanalytic ideas. It is not intended to replace the reading of Bion's original texts nor is it a biography of W.R. Bion, the man. A brief history of Bion's life is offered in the introduction to illuminate the conscious and unconscious factors that may have been an influence on his work, but the aim of this volume is to serve as an insightful and comprehensive guide to the often obscure meanings and terms explored and created by Bion throughout his many years, first as a psychiatrist and later as a psychoanalyst. It is an essential companion to the works of Bion that brings clarity and understanding to his absorbing concepts and is a vital addition to the library of anyone who has read and wondered over the writings of W.R. Bion.
'[This dictionary is] to be used as a "reference book", as an indispensable partner and a guide in the adventure of the fascinating discovery, although highly dense, complex and frequently frustrating, of Wilfred Ruprecht Bion's great legacy to psychoanalysis.'
- Rafael Lopez-Corvo, from the Introduction.
Reviews and Endorsements
'…I found this Dictionary to be a very useful and thought-provoking guide. One of the great advantages of this book is the bringing of attention to these difficult aspects of Bion's work, through multiple quotations, very adequate cross-referencing and the thoughtful interpretations of Lopez-Carvo.'
- Joan Symington, The International Journal of Psychoanalysis
About the Author(s)
Rafael E. Lopez-Corvo is a training and supervising psychoanalyst of the Venezuelan and Canadian Psychoanalytic Societies. He was associate professor at McGill University, Montreal, Canada, and a former member of the editorial board of the International Journal of Psychoanalysis. He maintains a private practice of psychoanalysis in Toronto, Canada.
You may also like