The Language of Bion: A Dictionary of Concepts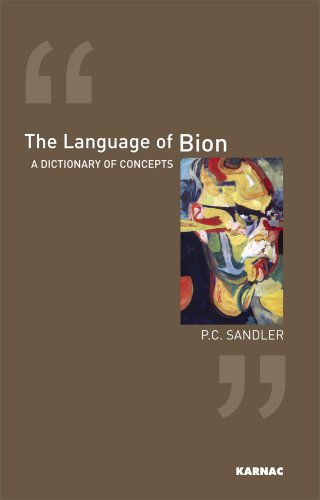 Book Details
Publisher : Routledge
Published : 2010
Cover : Paperback
Pages : 868
Category :
Psychoanalysis
Catalogue No : 29627
ISBN 13 : 9781855758360
ISBN 10 : 1855758369
Also by P.C. Sandler
Considering that introductory books cannot replace an author's original words, and that Bion's concepts are often found to be difficult to grasp, Dr Paulo Sandler has compiled an unusual style of dictionary. He assembles relevant quotations from Bion's texts together with the meaning of concepts and their place in the history of their development.
Dr Sandler aims to present Bion's work as it is, rather than to convey his own opinions, although he does include his own insightful comments between entries in order to clarify certain issues. This well-organized dictionary will be a valuable tool in deepening the apprehension of Bion's compacted style of writing.
Reviews and Endorsements
New in paperback

The entries in this dictionary are presented as an assembly of quotations and re-arrangement of Bion's texts, in the manner The Language of Psychoanalysis by Laplanche and Pontalis. The history and meaning of all Bion's concepts are shown in the entries, as well as research into their historical origins.

About the Author(s)
Paulo Cesar Sandler, MD, MSc, MhFAB, is a Training Analyst at the Sociedade Brasileira de Psicanálise de São Paulo, Psychiatrist at the Institute of Physical Medicine and Rehabilitation (IMREA) at the Hospital das Clinicas, Faculdade de Medicina da Universidade de São Paulo, and author of several books in Portuguese. He has written many papers and book chapters, some of which have been published in English and French. He has translated most of Bion's books and papers into Portuguese and has organized several international meetings on the work of Bion. Dr Sandler currently teaches in a post-graduate course at the University of São Paulo, and at the Institute of Psycho-Analysis of the SBPSP, giving courses about the work of Freud, Klein and Bion. He has worked in private psychoanalytic practice since 1974, having previously worked with psychotics in a traditional in-patient clinic, as well as in group-oriented community psychiatry, including epidemiology of mental disorders, in the local Public Health School.
You may also like