The Practice of Cognitive-Behavioural Hypnotherapy: A Manual for Evidence-Based Clinical Hypnosis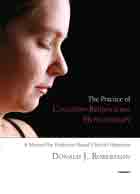 Also by Donald Robertson
This is a comprehensive evidence-based clinical manual for practitioners of cognitive-behavioural hypnotherapy.
Cognitive-behavioural hypnotherapy is increasingly becoming the dominant approach to clinical hypnosis. At a theoretical level, it adopts a research-based cognitive-behavioural model of hypnosis. At a practical level, it closely integrates traditional hypnotherapy and cognitive-behavioural therapy techniques. This is the first major treatment manual to describe a fully integrated cognitive-behavioural approach to hypnotherapy, based on current evidence and best practice in the fields of hypnotism and CBT. It is the product of years of work by the author, Donald Robertson, a cognitive-behavioural therapist and specialist in clinical hypnosis, with over fifteen years' experience in the therapy field.
This book should be essential reading for anyone interested in modern evidence-based approaches to clinical hypnosis. It's also an important resource for cognitive-behavioural therapists interested in the psychology of suggestion and the use of mental imagery techniques.
Reviews and Endorsements
'Robertson's approach is well structured but flexible and he demonstrates a firm grasp of his subject matter, which is considerable in scope. In particular, I believe he will convince readers who are already cognitive-behavioural therapists that learning how to include hypnosis in their repertoire of skills will pay them and their clients significant dividends. And those hypnotherapists wishing to incorporate CBT into their practice will be amply rewarded. With The Practice of Cognitive-Behavioural Hypnotherapy the author has demonstrated the exacting standards by which all books on therapeutic hypnosis should be judged. I commend it to the reader.'
- Dr Michael Heap, author (with H. B. Gibson) of Hypnosis in Therapy, and (with K. K. Aravind) of Hartland's Medical and Dental Hypnosis

'Donald Robertson goes back to basics and describes the development of hypnosis and cognitive-behavioural therapy. This book provides an excellent introduction to the theory, research and practice of cognitive-behavioural hypnotherapy.'
- Professor Stephen Palmer, Founder Director of the Centre for Stress Management, London
About the Author(s)
Donald Robertson is a registered psychotherapist (UKCP/EAP) in private practice, specialising in clinical hypnosis and cognitive-behavioural therapy (CBT). He has been working as a therapist since 1996, and is currently the principal of the UK College of Hypnosis & Hypnotherapy, a private training provider. Donald has published dozens of articles on hypnosis, philosophy, and psychotherapy in professional journals and periodicals. He is the author of Teach Yourself Resilience (Hodder), The Philosophy of Cognitive-Behavioural Therapy (Karnac), and the editor of The Discovery of Hypnosis: The Complete Writings of James Braid, the Father of Hypnotherapy (NCH). He regularly speaks at conferences and other events on issues such as hypnosis and philosophy in psychotherapy. Donald originally comes from Ayr, on the West coast of Scotland. He previously worked as a counsellor with young offenders, drug users, and schoolchildren, before opening his private practice in Harley Street, London. He studied Mental Philosophy at Aberdeen University before completing his Masters degree in Psychoanalytic Studies at the Centre for Psychotherapeutic Studies, Sheffield University. He holds a number of qualifications in different therapeutic approaches, including two practitioner diplomas in CBT, one from the Centre for Stress Management and the other from Kings College, London.
You may also like