The Philosophy of Cognitive-Behavioural Therapy (CBT): Stoic Philosophy as Rational and Cognitive Psychotherapy: Second Edition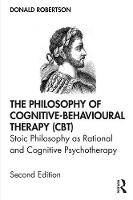 Book Details
Publisher : Routledge
Published : December 2019
Cover : Paperback
Pages : 252
Category :
Cognitive-Behavioural Therapies
Catalogue No : 94893
ISBN 13 : 9780367219147
ISBN 10 : 036721914X
Also by Donald Robertson
This exciting new edition of The Philosophy of Cognitive-Behavioural Therapy (CBT) demonstrates how techniques and concepts from Socratic philosophy, especially Stoicism, can be integrated into the practise of CBT and other forms of psychotherapy. What can we learn about psychological therapy from ancient philosophers? Psychotherapy and philosophy were not always separate disciplines. Here, Donald Robertson explores the relationship between ancient Greek philosophy and modern cognitive-behavioural psychotherapy.
The founders of CBT described Stoicism as providing the philosophical origins of their approach and many parallels can be found between Stoicism and CBT, in terms of both theory and practise. Starting with hypnotism and early twentieth century rational psychotherapy and continuing through early behaviour therapy, rational-emotive behaviour therapy (REBT), and cognitive-behavioural therapy (CBT), the links between Stoic philosophy and modern psychotherapy are identified and explained. This book is the first detailed account of the influence of Stoic philosophy upon modern psychotherapy. It provides a fascinating insight into the revival of interest in ancient Western philosophy as a guide to modern living. It includes many concepts and techniques, which can be readily applied in modern psychotherapy or self-help.
This new edition, covering the growth in third-wave CBT, including mindfulness and acceptance-based therapies, will appeal to any mental health practitioner working in this area, as well as students and scholars of these fields.
About the Author(s)
Donald Robertson is a registered psychotherapist (UKCP/EAP) in private practice, specialising in clinical hypnosis and cognitive-behavioural therapy (CBT). He has been working as a therapist since 1996, and is currently the principal of the UK College of Hypnosis & Hypnotherapy, a private training provider. Donald has published dozens of articles on hypnosis, philosophy, and psychotherapy in professional journals and periodicals. He is the author of Teach Yourself Resilience (Hodder), The Philosophy of Cognitive-Behavioural Therapy (Karnac), and the editor of The Discovery of Hypnosis: The Complete Writings of James Braid, the Father of Hypnotherapy (NCH). He regularly speaks at conferences and other events on issues such as hypnosis and philosophy in psychotherapy. Donald originally comes from Ayr, on the West coast of Scotland. He previously worked as a counsellor with young offenders, drug users, and schoolchildren, before opening his private practice in Harley Street, London. He studied Mental Philosophy at Aberdeen University before completing his Masters degree in Psychoanalytic Studies at the Centre for Psychotherapeutic Studies, Sheffield University. He holds a number of qualifications in different therapeutic approaches, including two practitioner diplomas in CBT, one from the Centre for Stress Management and the other from Kings College, London.
You may also like