Psychodynamics of Writing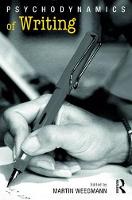 Book Details
Publisher : Routledge
Published : August 2018
Cover : Paperback
Pages : 208
Category :
Psychoanalysis
Catalogue No : 39107
ISBN 13 : 9781782205043
ISBN 10 : 1782205047
Also by Martin Weegmann

Although psychoanalysis began as the 'talking cure', Freud's ideas and speculations were in many ways worked out in and through writing. The large Freudian corpus includes case studies, theory papers, short studies, papers on technique, expositions and lectures, revisions, footnotes and ambitious cultural forays; in Freud's ironic words, "I invented psychoanalysis because it had no literature".
Some have drawn attention to the social and rhetorical functions of Freud's writing - to secure adherents, persuade sceptics, and counter, even to 'diagnose', detractors. Whatever one's ultimate judgment of his work, Freud offers a new way of writing the self and, at the very least, as Adam Phillips observes, he "changes our reading habits".
Freud was passionate about literature and mythology, which informed both his style and many of the founding concepts. Subsequently, there are many examples of literary interest in psychoanalysis and of psychoanalysis turning its attention to writing and creativity. Psychotherapists generally have periodically looked at questions such as: publication anxiety, blocks, how to write up clinical material, as well as applying psychodynamic insights to novels, autobiography and so forth.
It is timely however to bring together some modern psychodynamic perspectives on writing by authors who are also experienced writers, many of whom are well-known. The authors, who include therapists, academics, and novelists, offer their reflections on the broad theme of the psychodynamic aspects of writing - its challenges, pleasures, pressures, anxieties, purposes and so forth, also those psychic/social dimensions of writing and how it addresses our concerns, passions and self-experience. This provides fascinating insights and an engaging variety of styles and themes.
Psychodynamics of Writing will be of great interest to clinicians, those in the academic and cultural world and to writers, and also a non-specialist, general readership.
About the Editor(s)
Martin Weegman is a Consultant Clinical Psychologist and Group Analyst, with thirty years NHS experience. He is a well-known trainer, delivering workshops and lectures throughout the UK to a variety of psychology and psychotherapy organisations. Martin has written or co-edited four books, and published many book chapters and papers in a range of journals.
You may also like