Permission to Narrate: Explorations in Group Analysis, Psychoanalysis, Culture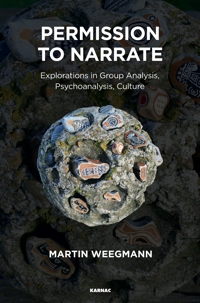 Also by Martin Weegmann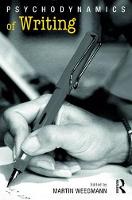 Permission to Narrate develops exciting new theory and explorations for group analysis. They are diverse in range and, from differing bases in theory and research, aim to cast light on how clients find voice and speak out in groups and the importance of rhetoric in the understanding of communication. It addresses the ways in which silenced, submerged and less confident voices emerge, finding permission and narration, often against the odds. Positioning and dialogical theory is used to show how such voices are caught up in and defined by discourses, and also how we can transcend the definitions and positions into which we are thrown. Accessible clinical and historical examples bring theory to life.
Permission to Narrate also uses applied group analytic theory to consider the cultural role and rhetoric of monsters, and what these representations tell us about the position in which human beings conceive themselves. Also explored, using applied group theory, are the meetings of Alcoholics Anonymous and Quakers, both serving as remarkable examples of different, alternative group formations. A chapter on revolutions, in England, France, and elsewhere, demonstrates the role of rhetorical re-definitions of society and an aesthetics of revolt.
A semi-autobiographical chapter discusses different interpretations of Freud, over the years, while the final chapter argues that group analysis faces serious 'discipline anxiety' after its first sixty years or so. How it responds to such anxiety can be decisive in terms of our viability and continuing relevance as a discipline and practice.
This book will be of interest to clinicians and academics, across disciplines including history, social psychology and cultural studies.
Reviews and Endorsements
'These excellent and elegant essays extend the frontiers of group analysis, adding further depth and breadth, not to mention innovation, to our discipline and
researches.'
— Malcolm Pines, group analyst, author of The Evolution of Group Analysis

'Very original, imaginative and striking – a different point of view on what we do.'
–– Liesel Hearst, group analyst, and co-author of Group-Analytic Psychotherapy

'This book is a fascinating account through a series of essays, made more interesting still by its courageous self-disclosures and glimpses into the author's own history.'
— Professor Edward Khantzian, psychiatrist and psychoanalyst, Harvard Medical School

'Martin Weegmann further develops his acute understanding of analogy, rhetoric, metaphor and symbolism and the ways in which group and individual narratives interweave and influence each other, including novel insights into the formation and lure of psychoanalysis.'
—Alistair D. Sweet, psychoanalytic psychotherapist, Belfast

'This beautifully written book is dizzyingly wide-ranging, its span including narrative and dialogical psychology, group analysis, rhetoric, literature, historical and political analysis, and even an excursion into the world of monsters, as well as the author's own clinical and personal experiences. We should be grateful to Martin Weegmann for giving himself the permission to narrate so broadly because the result is not just an invitation for a paradigm change in group analysis but a fine and evocative demonstration of the power of words.'
— David Winter, Emeritus Professor of Clinical Psychology, University of Hertfordshire

'In recent years Martin Weegmann, a distinguished clinical psychologist and group analyst, has begun to share his rich clinical voice with colleagues in a host of intriguing and wise publications on the addictions and related topics. His most recent book explores the necessity of granting not only our patients but, also, ourselves the permission to transform our hidden narratives into words in order to obtain relief. Weegmann illustrates this most powerfully through a series of intelligent, literate, and historically deft chapters which range from a study of Alcoholics Anonymous, to the language of group analysis, to the life and work of Sigmund Freud. The author writes in a clear and inviting style - never pompous or bombastic - and one imagines that he creates a similarly welcoming atmosphere in his consulting room. One will finish reading this book feeling rather better educated about the entire panoply of psychotherapy.'
—Brett Kahr, Senior Fellow at the Tavistock Centre for Couple Relationships, in the Tavistock Institute of Medical Psychology, London, and, Senior Clinical Research Fellow in Psychotherapy and Mental Health at the Centre for Child Mental Health
About the Author(s)
Martin Weegman is a Consultant Clinical Psychologist and Group Analyst, with thirty years NHS experience. He is a well-known trainer, delivering workshops and lectures throughout the UK to a variety of psychology and psychotherapy organisations. Martin has written or co-edited four books, and published many book chapters and papers in a range of journals.
You may also like