From Chaos to Coherence: Psychotherapy with a Little Boy with ADHD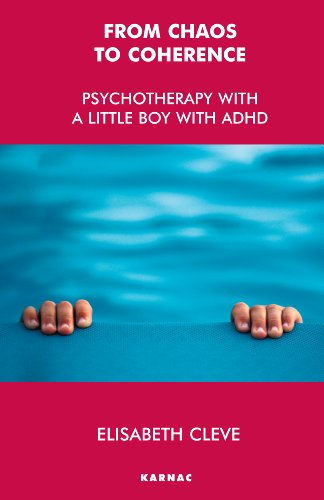 Book Details
Publisher : Routledge
Published : 2004
Cover : Paperback
Pages : 256
Category :
Child and Adolescent Studies
Catalogue No : 18551
ISBN 13 : 9781855753457
ISBN 10 : 1855753456
Also by Elisabeth Cleve
Our Customers Average Rating
Read all reviews (2)





'...I am flooded with warmth for this little expert on the art of living, who has just realised that even he has the possibility to live a long life. My interpretation is that he trusts he will get the time he needs in therapy to reach, first adulthood, and, then, old age. Right now he believes he will continue to be in therapy for the rest of his life. He cannot imagine that it is going to come to an end. However, I have started to think about when we will have to part and I am not looking forward to it...'
From Chaos to Coherence is the true story, told in everyday language, of the adopted boy Douglas and his journey towards adulthood with the help of psychotherapy.
Douglas has severe psychic, physical and social handicaps and is also diagnosed with ADHD. He is impulse-governed, aggressive, provocative and unable to interact with other children. He begins psychotherapy at the age of seven and continues weekly sessions for the next seven years.
The reader is invited into the child psychotherapy room to follow the work of Douglas and his therapist, the author Elisabeth Cleve. The therapy can be described as physically intense work that evokes strong emotions in both Douglas and the therapist. We get to learn about their inner feelings, thoughts and actions during the different phases of the treatment.
The story of Douglas captivates the reader and provides an understanding of what is going on inside a troubled little boy. This beautifully written account of successful psychotherapy is painfully honest at times and manages to bring the therapy sessions to life for the reader. From Chaos to Coherence is an important book and vital reading not only for all involved in children's psychotherapy, but for all of us in search of a humane, informative and touching book.
About the Author(s)
Elisabeth Cleve was born in 1946 in Stockholm, Sweden, where she was educated at the Erica Founcation, a training centre for psychotherapists specializing in children and adolescents. She is a licensed psychologist and psychotherapist for children and young people, a specialist in clinical psychology, a supervisor and an author. Her publications include From Chaos to Coherence. Psychotherapy with a boy with ADHD (Karnac, 2004) and, with Britta Blomberg, The Machover Test. A Handbook with Theoretical Perspectives (Psykologifoerlaget AB, 1997).
Customer Reviews
Our customers have given this title an average rating of 5 out of 5 from 2 review(s), add your own review for this title.
Anne Alvarez, PhD, MACP on 26/10/2004





(5 out of 5)
This clear and eloquent book provides evidence to support the importance of concentrating our resources on children with neuropsychiatric problems who could otherwise end up in prison or psychiatric hospital. A desperate, hyperactive, dribbling and despairing little boy is transformed into an upright thinking adolescent with a sense of dignity and pride. The psychotherapy is informed both by psychoanalytic and neuropsychological considerations, and the results cast new light on the way in which a psychological therapy is able to improve brain function.


Maria Rhode on 16/07/2004





(5 out of 5)
This is a beautifully written and moving book. Elisabeth Cleve brings alive the personality of Douglas, an unmanageably violent six-year-old adopted boy with a diagnosis of ADHD. We share in his struggles and accomplishments, those of his devoted adopted parents and of his psychotherapist. The Erica Foundation in Stockholm, where Cleve works, has an international reputation in the fields of child psychotherapy, research, and clinical training, and she shows what can be achieved during seven years of treatment, while taking full account of neurological factors. The foreword, by a former director of Swedish prisons, stresses the cost-effectiveness of long-term psychotherapy for young children when compared to the human and financial cost of coping with violent young adults - a timely political message for all involved in the planning of services. This book will be a source of hope for parents and a stimulus for reflection by professionals.
You may also like