Waiting To Be Found: Papers on Children in Care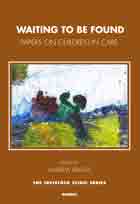 Also by Andrew Briggs
This book is about children in State care and its title – Waiting to be Found – is derived from an observation about such children by the child psychotherapist Hamish Canham.
In one of his early papers Canham wrote that children's homes often reminded him of "station waiting rooms with children waiting to move on to their next placement and staff waiting for the next shift, or working as a residential social worker in order to get experience before moving on to do something else or further training." This book takes his comment about waiting rooms as its starting point, with each contributor building upon its central implications.
The contributors to this book each explore the importance of relationship; whether between child and care system, child and clinician or other practitioner, practitioners with practitioners, or individuals with the organisation in which they work. Overall they demonstrate when attention is paid to any one of these relationships this determines emotional-psycho-social success for the child, and how when this attention is missing serious issues arise. As a snapshot view of the way Canham's focus is used today they show that he was ahead of his time in thinking about the structure and function of what we now recognise as the corporate parent.
Reviews and Endorsements
'Andrew Briggs has pulled together a remarkable and inspiring book, in which he begins with a tribute to the exceptional range and depth of thinking of the late Hamish Canham, who died at an early age. Canham's own republished papers are reminders of his ability to integrate exceptional clinical insight with understanding of the importance of relationships between professionals and within organisations if the lives and future prospects of looked-after children are to be transformed. The essence of the message in all the chapters is the necessity of remaining deeply emotionally engaged, capable of reflection, and mindful of the danger of enactment. This truthful volume will become an invaluable source of knowledge born from direct experience, for many generations to come.'
- Trudy Klauber, Consultant Child and Adolescent Psychotherapist, Tavistock Clinic, London, and co-editor of The Many Faces of Asperger's Syndrome with Professor Maria Rhode

'This fine book, brought together by Andrew Briggs, is both a tribute to the work and thinking of a gifted and highly imaginative child psychotherapist, the late Hamish Canham, and simultaneously a most original exploration of the contribution that psychoanalytic insight can bring to the understanding of the emotional world of children in care. The authors' focus on seeing the child in the wider social and organisational context she or he inhabits, with its complex network of relationships, breaks new ground and carries significant implications both for practice and policy. It should be widely read.'
- David Armstrong, Associate Consultant, Tavistock Consulting, London

'This collection of papers gives extraordinary insight into the chilling, upsetting, and disturbing emotional and social worlds of a group of children exposed to what all of us fear - the fundamental breakdown of our parent's capacity to safely and lovingly care for us. When the state takes over that role, the thoughts and feelings of the child bring the worst of nightmares into a lived reality. It takes enormous insight, wisdom, and endurance to work alongside that reality and every one of the papers in this book conveys exactly how that might be done.'
- John Simmonds, Director of Policy, Research and Development, British Association for Adoption and Fostering

'This is a wonderfully insightful, moving, and important book that deepens and advances our appreciation of the psychological and social predicaments of children in care, of the challenge we face in understanding and helping them, and of how to help ourselves in the task of working with the complex social systems they inhabit. Hamish Canham's brilliant papers are the centrepiece, but the contributions of other authors are equally significant. The book is a lasting tribute to one practitioner who engaged with universal themes in work with children, some of them very dark, that continue to demand our close attention and clinical engagement.'
- Andrew Cooper, Professor of Social Work, Tavistock & Portman NHS Trust and University of East London
About the Editor(s)
Andrew Briggs is Head of Child and Adolescent Psychotherapy, Sussex Partnership NHS Trust, and an organisational consultant with many years experience working with senior managers and teams within public sector and not-for-profit organisations delivering services to adopted children and children in care. He is a visiting lecturer to Tavistock and Portman NHS Foundation Trust for courses on public sector leadership and management, and was a former Teaching Fellow in the Centre for Psychoanalytic Studies, University of Essex, and Honorary Senior Lecturer in Kent Institute for Medical and Health Studies, University of Kent. He is the author of many peer-reviewed papers on aspects of child and adolescent psychotherapy and editor of two books in the Karnac Tavistock series: Surviving Space: Papers on Infant Observation (2002), and Waiting to be Found: Papers on Children in Care (2012).
You may also like