The Craft of Family Therapy: Challenging Certainties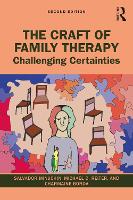 Book Details
Publisher : Routledge
Published : May 2021
Cover : Paperback
Pages : 306
Category :
Family, Couple and Systemic Therapy
Catalogue No : 95653
ISBN 13 : 9780367628338
ISBN 10 : 9780367628
Also by Salvador Minuchin


Also by Michael D. Reiter
This cutting-edge second edition of The Craft of Family Therapy revisits some of Salvador Minuchin's most famous cases, guiding trainee therapists through basic techniques and ideas while illuminating the unique voice of Minuchin as the founder of Structural Family Therapy.
The book begins by teaching readers the fundamentals of family therapy through the lens of rich commentary from Salvador Minuchin on some of his most interesting cases. It then moves on to three detailed supervision transcripts from Minuchin's former students, illustrating the struggles, fears, and insecurities that new family therapists face and how they can overcome them. In a new, ground-breaking third section, Reiter and Borda share their own lessons from Minuchin as well as expand his influential ideas, emphasizing a strength-based family therapy approach.
Written in an accessible, practical style, The Craft of Family Therapy, draws on a wealth of fascinating case examples to bring Minuchin's theory and experience to today's family therapists and psychotherapists in practice and training.
Reviews and Endorsements
"This is a uniquely fascinating book. The first edition presented the practical and poetic wisdom of Salvador Minuchin with the counterpoint voices of his trainees. Their lessons learned and their personal growth are a significant addition to the training literature. This second edition enlarges the prism by incorporating the incisive views of the trainee's teachers, family therapy Professors Michael D. Reiter and Charmaine Borda. A must read for any clinician interested in enhancing their craft." - H. Charles Fishman, MD, clinical professor of psychiatry, University of Hawaii, John A. Burns School of Medicine.

"In his final book, Minuchin gives us an in-depth master class in family therapy as developed over a 60-year career. Having worked with him, these classes speak true to his teachings throughout his career, breaking down the key skills of viewing families systemically. Minuchin gives voice to his key insights into the dynamics of the family dance that has made him one of the most influence figures in our field. Every family therapy student will appreciate the second part of the book which demonstrates the struggle and growth that student therapists have in becoming professional family therapists. The third part of the book fondly pays tribute to Minuchin's masterful voice and how it continues to impact family therapists into the future." - Cloe Madanes, president, Madanes Institute, author of Changing Relationships.
About the Author(s)
Salvador Minuchin, MD, is a family therapist, author, and teacher. He is the developer of Structural Family Therapy and is considered one of the founders of family therapy.
More titles by Salvador Minuchin
Michael D. Reiter, PhD, LMFT, is Professor of Family Therapy in the Division of Social and Behavioral Sciences at Nova Southeastern University.
More titles by Michael D. Reiter
Charmaine Borda, PhD, LMFT, LMHC, is the Founder and Director of The Blue Couch, Inc., a private practice in Plantation, Florida.
You may also like