A Big and a Little One is Gone: Crisis Therapy with a Two-year-old Boy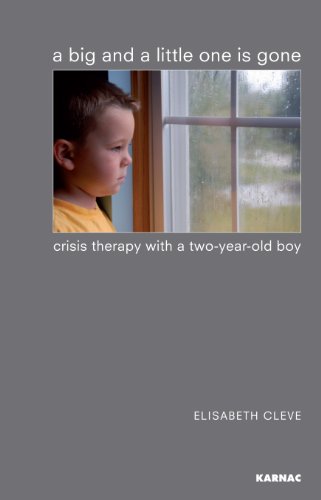 Also by Elisabeth Cleve
This is a story from inside the child psychologist's room. Victor, who is two and a half years old, has lost his mother and younger brother in a car accident. He is 'sunny and happy' and does not cry. He is a child in deep crisis and comes for a crisis therapy. In this book we will follow Victor for his fifteen treatment sessions. He shows through play and activities how he is followed and piloted through his grief by his therapist. The healing by play therapy is depicted in words and pictures out of the perspective of both patient and therapist. The crisis therapy will work as the first link into a new future. In spite of the tragic reasons for the meetings, A Big and a Little One is Gone is a documentary story which brings both hope and courage.
Reviews and Endorsements
'What is a little child capable of understanding? This question inevitably comes to mind as we interact with the little children in our lives. We are amazed at their ability to recall events and people, and we laugh when they give us their own version of the well-meaning but sometimes nagging words of adults. The way they show their compassion for others astounds us. The question reaches a peak of importance when tragic events strike very young children. Can they understand? What can they understand? And what can they make of their knowledge if they have understood? A little child who is dealt the hardest of blows that life can bring is the subject of this book. A two-year-old boy loses his mother and younger brother in a traffic accident. Now his life must go on together with his desperately grieving father. How is this possible?

Elisabeth Cleve's book is an excellent guide to understanding a little child's many modes of expression. It is not hampered by obscure, specialized terminology and should be understandable and helpful to a parent or grandparent without a background in psychology as well as to school and day-care personnel and other professionals whose daily task is to help children meet and cope with life's difficulties.'
- Ami Lönnroth, from the Foreword

'A Big and a Little One is Gone is a study in childhood bereavement as well as a valuable account of the kind of psychoanalytically informed brief therapy that can be highly effective when offered in a timely, well-supported and carefully thought out way. For both of these reasons, it is an unusual and valuable resource to clinicians. In this book we have a courageous and heartfelt example of what goes on between a therapist and her very young patient as they try to work together towards recovery from one of the most painful and traumatic experiences that any of us can imagine.'
- Monica Lanyado, from the Preface
About the Author(s)
Elisabeth Cleve was born in 1946 in Stockholm, Sweden, where she was educated at the Erica Founcation, a training centre for psychotherapists specializing in children and adolescents. She is a licensed psychologist and psychotherapist for children and young people, a specialist in clinical psychology, a supervisor and an author. Her publications include From Chaos to Coherence. Psychotherapy with a boy with ADHD (Karnac, 2004) and, with Britta Blomberg, The Machover Test. A Handbook with Theoretical Perspectives (Psykologifoerlaget AB, 1997).
You may also like