A Brief Introduction to Psychoanalytic Theory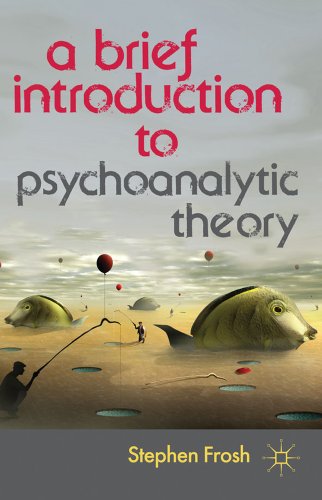 Book Details
Publisher : Palgrave
Published : January 2012
Cover : Paperback
Pages : 272
Category :
Psychoanalysis
Category 2 :
Culture and Psychoanalysis
Catalogue No : 33320
ISBN 13 : 9780230369306
ISBN 10 : 0230369308
Also by Stephen Frosh
How is psychoanalytic theory relevant in the modern age? How does it inform and interact with culture? From Freud to Lacan, this insightful text clearly explores key psychoanalytic writers, core ideas, and their development. A vibrant text mapping the relevance of psychoanalysis across social sciences, humanities and the arts.
Reviews and Endorsements
PART I: FREUDIAN THEORY
The Appeal of Psychoanalysis
A Family History of Psychoanalysis
What Freud was Trying to Do
The Freudian Unconscious
Sex, Aggression, Life and death
Repression and Other Defences
The Structure of the Mind: Id, Ego, Superego
Oedipus, Masculinity, Femininity
Psychopathology: What Makes Us Sad (and Mad)
PART II: DEVELOPMENTS IN PSYCHOANALYTIC THEORY
Psychoanalysts After Freud
Attachment and Mentalisation
The Principles of Object Relations Theory
Mourning, Melancholia, Depression and Loss
The Paranoid-Schizoid Position and Other Extremes
Projection and Projective Identification
Lacanian Psychoanalysis
Interpretation and Transference
Psychotherapeutic Relationships
PART III: WIDER APPLICATIONS
Psychoanalysis, Film and Literature
Politics and Society
Conclusion
Recommended Reading
About the Author(s)
Stephen Frosh is Professor of Psychology and Pro-Vice-Master at Birkbeck College, University of London. He is also Co-Director of of the Birkbeck Institute for Social Research. He is widely published, and is particularly well-known for his lucid accounts of psychoanalysis. His books include: For and Against Psychoanalysis (2006), Key Concepts in Psychoanalysis (2002) and The Politics of Psychoanalysis (1999).
You may also like