Dream and Fantasy in Child Analysis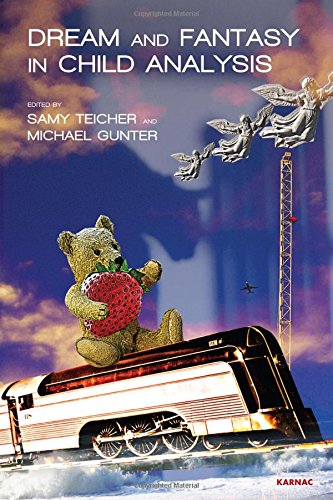 Also by Michael Gunter
The contributions to this book, containing talks given at the Conference in Vienna on 'Dream and Fantasy in Child and Adolescent Psychoanalysis and Psychotherapy', focus on the close connection between children's imaginative world, their dream life, and play. Is it a dream that a child is recounting or is it rather a fantasy to be regarded as equivalent to a dream? Children's play, too, presents important material that allows us to draw inferences about the subconscious. Indeed dreams, daydreams, fantasies and play were originally treated as of equal importance in child analysis.
How do child analysts work with dreams at the practical and theoretical levels? In the practice of child analysis today do we find analysis of dreams and the classic differentiations between manifest and latent content? Is attention accorded to the mechanisms of condensation, displacement etc. described by Freud? The current discussion on working with children's dreams and their equivalents in today's practice of child psychoanalysis forms the central focus of the contributions collected in this book.
Reviews and Endorsements
'This invaluable book tackles a topic of psychoanalysis that is much in need of more in-depth exploration and offers receptive readers new ways of thinking about dreaming. Since the classic Freudian model, we have entered into the universe of reveries, the dream process whereby sensory stimuli are transformed into the unconscious, transformations in dreaming, and co-dreaming the sessions. This is a book that leads its readers through new territory and invites them to enjoy the fascination and wonder of the unknown. It is a brave book that dares to dream new dreams for psychoanalysis.'
––Antonino Ferro, member of the Società Psicoanalitica Italiana and APsaA

'Is it possible that we see an increasing interest in the psychoanalytical understanding of dreams – in an era of neuroscientific discoveries and the development of psychotherapy techniques that pay little attention to the unconscious? The authors, all experienced child psychoanalysts, answer in the affirmative. The reason is that they, like most of today's psychoanalysts, see the dream as the prototype of a kind of deep thinking that modern man is eager to rediscover. However, accounts and reflections on dreams are often surrounded by embarrassed and pseudo-rational attitudes. One would expect this to be less salient with children, but often they do not report dreams spontaneously. The authors explore the reasons for this and how dreams, nevertheless, may be used in child therapy. This fine book is of interest to anyone who seeks to explore at depth the minds of children.'
––Björn Salomonsson, MD, PhD, Psychoanalyst (IPA) and researcher at the Department of Women's and Children's Health, Karolinska Institutet, Stockholm

'An amazing book on children's dreams and fantasies, presenting different points of view by child and adolescent analysts from many nations. It shows the complexity, diversity and complementarity of different approaches. Any person working with children or adolescents in a psychoanalytic way will benefit from reading this book.'
––Dieter Bürgin, psychoanalyst for children, adolescents and adults
About the Editor(s)
Samy Teicher has a diploma in psychology and is a psychoanalyst, child psychoanalyst (WPV/IPA), a training analyst for psychoanalytic psychotherapy, and a training group analyst (ÖAGG-Austrian Study Group on Group Therapy) with coaching and supervision in private practice in Vienna. He has written on trauma and its after-effects, child analysis, anti-Semitism, and the history of psychoanalysis.
Michael Günter is professor for child and adolescent psychiatry and medical director in the Department of Psychiatry and Psychotherapy for Children and Adolescents at the University of Tübingen. He is a child and adolescent psychiatrist and psychoanalyst for adults, children and adolescents and training analyst (DPV/IPA). In addition, he edits the journal Kinderanalyse.
You may also like