Psychodynamic Interventions in Pregnancy and Infancy: Clinical and Theoretical Perspectives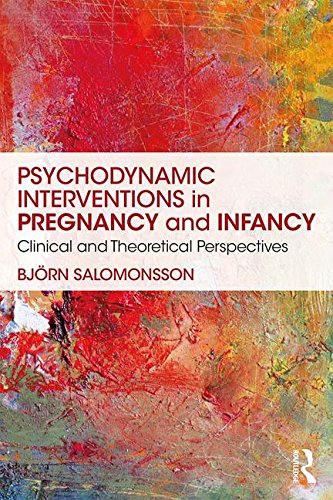 Also by Bjorn Salomonsson
Psychodynamic Interventions in Pregnancy and Infancy builds on Bjorn Salomonsson's experiences as a psychoanalytic consultant working with parents and their babies. Emotional problems during the perinatal stages can arise and be observed and addressed by a skilled midwife, nurse or health visitor.
Salomonsson has developed a method combining nurse supervision and therapeutic consultations which has lowered the thresholds for parents to come and talk with him. The brief consultations concern pregnant women, mother and baby, husband and wife, toddler and parent. The theoretical framework is psychoanalytic, but the mode of work is eclectic and adapted to the family's situation and its members' motivation. This book details such work, which can be applied globally; perinatal psychotherapy integrated with ordinary medical health care. It also explains how psychotherapy can be made more accessible to a larger population.
Via detailed case presentations, the author takes the reader through pregnancy, childbirth and the first few years of life. He also brings in research studies emphasizing the importance of early interventions, with the aim of providing therapists with arguments for such work in everyday family health care. To further substantiate such arguments, the book ends with theoretical chapters and, finally, the author's vision of the future of a perinatal health care that integrates medical and psychological perspectives.
Psychodynamic Interventions in Pregnancy and Infancy will appeal to all psychoanalysts and psychoanalytic psychotherapists working in this area, as well as clinical psychologists, clinical social workers and medical personnel working with parents and infants.
About the Author(s)
Björn Salomonsson is a training and child psychoanalyst of the Swedish Psychoanalytical Association, Stockholm. He is also a psychoanalyst in private practice and a consultant psychoanalyst at the Mama Mia Child Health Centre, and a researcher at the Karolinska Institutet, both based in Stockholm.
You may also like