Climate Crisis, Psychoanalysis, and Radical Ethics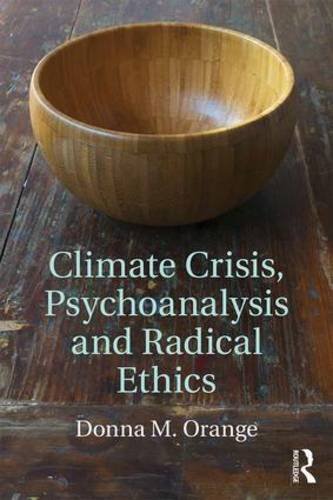 Book Details
Publisher : Routledge
Published : 2016
Cover : Paperback
Pages : 152
Category :
Psychoanalysis
Category 2 :
Climate Politics
Catalogue No : 39194
ISBN 13 : 9781138124868
ISBN 10 : 1138124869
Also by Donna M. Orange
Psychoanalysis engages with the difficult subjects in life, but it has been slow to address climate change. Climate Crisis, Psychoanalysis, and Radical Ethics draws on the latest scientific evidence to set out the likely effects of climate change on politics, economics and society more generally, including impacts on psychoanalysts. Despite a tendency to avoid the warnings, times of crisis summon clinicians to emerge from comfortable consulting rooms. Daily engaged with human suffering, they now face the inextricably bound together crises of global warming and massive social injustices. After considering historical and emotional causes of climate unconsciousness and of compulsive consumerism, this book argues that only a radical ethics of responsibility to be my other's keeper will truly wake us up to climate change and bring psychoanalysts to actively take on responsibilities, such as demanding change from governments, living more simply, flying less, and caring for the earth and its inhabitants everywhere.
Linking climate justice to radical ethics by way of psychoanalysis, Donna Orange explores many relevant aspects of psychoanalytic expertise, referring to work on trauma, mourning, and the transformation of trouble into purpose. Orange makes practical suggestions for action in the psychoanalytic and psychotherapeutic communities: reducing air travel, consolidating organizations and conferences, better use of internet communication and education. This book includes both philosophical considerations of egoism (close to psychoanalytic narcissism) as problematic, together with work on shame and envy as motivating compulsive and conspicuous consumption. The interweaving of climate emergency and massive social injustice presents psychoanalysts and organized psychoanalysis with a radical ethical demand and an extraordinary opportunity for leadership. Climate Crisis, Psychoanalysis, and Radical Ethics will provide accessible and thought-provoking reading for psychoanalysts and psychotherapists, as well as philosophers, environmental studies scholars and students studying across these fields.
About the Author(s)
Donna M. Orange, Ph.D., Psy.D., is faculty and supervising analyst at the Institute for the Psychoanalytic Study of Subjectivity, New York, and a training and supervising analyst at the Instituto di Specializione in Psicologia Psicoanalitica de Se e Psicoanalisi, Rome. She has authored and coauthored several books, including Emotional Understanding (1995) and Worlds of Experience (2002).
You may also like