Climate Psychology: A Matter of Life and Death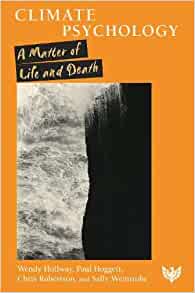 Book Details
Publisher : Phoenix Publishing House
Published : January 2022
Cover : Paperback
Pages : 160
Category :
Individual Psychotherapy
Category 2 :
Climate Politics
Catalogue No : 96104
ISBN 13 : 9781912691326
ISBN 10 : 9781912691
Also by Wendy Hollway
Also by Chris Robertson

Also by Sally Weintrobe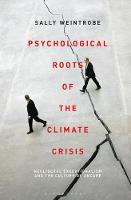 Climate Psychology offers ways to work with the unthinkable and emotionally unendurable current predicament of humanity. The style and writing interweave passion and reflection, animation and containment, radical hope and tragedy to reflect the dilemmas of our collective crisis. The authors model a relational approach in their styles of writing and in the book's structure. Four chapters, each with a strikingly original voice and insight, form the core of the book, held either end by two jointly written chapters.
In contrast to a psychology that focuses on individual behaviour change, the authors use a transdisciplinary mix of approaches (depth psychology and psychotherapy, earth systems, deep ecology, cultural sociology, critical history, group and institutional outreach) to bring into focus the predicament of this period. While the last decade required a focus on climate denial in all its manifestations (which continues in new ways), a turning point has now been reached. Increasingly extreme weather across the world is making it impossible for simple avoidance of the climate threat. Wendy Hollway, Paul Hoggett, Chris Robertson, and Sally Weintrobe address how climate psychology illuminates and engages the life and death challenges that face terrestrial life.
This book will appeal to three core groups. First, mental health and social care professionals wanting support in containing and potentially transforming the malaise. Second, activists wanting to participate in new stories and practices that nurture their engagement with the present social and cultural crisis. Third, those concerned about the climate emergency, wanting to understand the deeper context for this dangerous blindness.
About the Author(s)
Wendy Hollway is Emeritus Professor of Psychology, Honorary Fellow of the British Psychological Society, and Fellow of the Academy of Social Sciences. She co-founded the UK psycho-social network, has been active in the European psycho-social network, and co-edits the Palgrave "Studies in the Psychosocial" series. She edits a monthly Digest for Climate Psychology Alliance.
Her books include: Changing the Subject: Psychology, Social Regulation and Subjectivity (1984/1998), with J. Henriques, C. Urwin, C. Venn, and V. Walkerdine. London: Routledge; Doing Qualitative Research Differently: Free Association, Narrative and the Interview Method (2000/2013), with Tony Jefferson. New York: Sage and Knowing Mothers: Researching Maternal Identity Change (2015). London: Palgrave Macmillan.
Chris Robertson, has been a psychotherapist and trainer since 1978. He was the co-creator of Borderlands and the Wisdom of Uncertainty, which in 1989 became the subject of a BBC documentary. In 1988, he co-founded Re-Vision, an integrative and transpersonal psychotherapy training with an ecopsychology component. He retired from Re-Vision in 2018. He was chair of the Climate Psychology Alliance, with which he still works. Recent publications include:
Culture crisis: a loss of soul. In: D. Mathers (Ed.), Depth Psychology and Climate Change; Transformation in Troubled Times (co-editor) and Climate change, despair and radical hope (co-editor) The Psychotherapist.
More titles by Chris Robertson
Sally Weintrobe, a practising psychoanalyst, is a Fellow of the Institute of Psychoanalysis in London. She sees a psychoanalytic approach as a vital part of understanding how to engage people about the seriousness of climate change and how to understand current levels of denial. She has written and lectured widely on these subjects and on our relationship with nature. Her commitment to fostering interdisciplinary exchange with other human scientists about engaging with climate change has resulted in the book Engaging with Climate Change.
More titles by Sally Weintrobe
Paul Hoggett is Professor of Politics and Director of the Centre for Psycho-Social Studies at the University of the West of England. He is a psychoanalytic psychotherapist, a member of the Severnside Institute for Psychotherapy, Associate Member of the Lincoln and is also an experienced group relations consultant. His books include Partisans in an Uncertain World and Emotional Life and the Politics of Welfare. He is a board member of the Association for Psychoanalysis, Culture and Society, and has editorial roles on Organisational & Social Dynamics, Psychodynamic Practice and Psychoanalysis Culture and Society
You may also like