The Fundamentals of Psychoanalytic Technique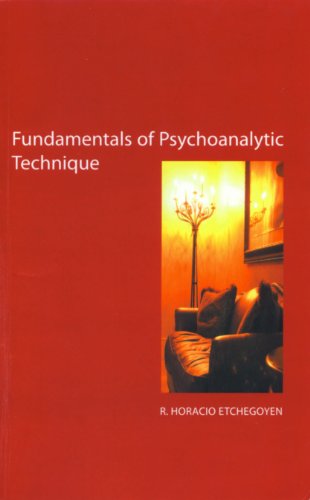 Book Details
Publisher : Routledge
Published : 2005
Cover : Paperback
Pages : 912
Category :
Psychoanalysis
Catalogue No : 23053
ISBN 13 : 9781855754553
ISBN 10 : 185575455X
Our Customers Average Rating
Read all reviews (1)





A revised and updated edition of this recent classic, including new material on insight and early development, amongst others. Within each subject, the author presents the theories and observations of each major contributor to the particular topic, from Freud to contemporary thinking, and in the process shows the advantages and disadvantages of the various theoretical positions and orientations.
Reviews and Endorsements
'R. Horacio Etchegoyen has written a splendid textbook on psychoanalytic technique– thoughtful, extensive in its coverage, authoritative without being polemical, deep in insights that refl ect the author's clinical experience... Both beginners and experienced analysts should fi nd this book of interest and value. The former for its overview and as a guide to original sources, the latter for being introduced to a seasoned analyst's experience and wisdom... Above all, psychoanalytic technique is presented throughout as a scientifi c inquiry in progress, and the interchange of communication across alternative approaches it proposes is a creative, productive way of stimulating understanding and fostering the eff ectiveness of our interventions with patients. I believe this book will be recognized as a major milestone in the growing literature on psychoanalytic technique and a major crossroad facilitating the communication and mutual enrichment of alternative schools and approaches.'
- Otto F. Kernberg, MD

'In the preface, the author writes: "My one aspiration is that this book may help my colleagues to discover in themselves the analysts that they really are." To that end, I think it will surely succeed. It will be of inestimable value to all teachers and students of psychoanalysis, however experienced. There is no other book like it.'
- Patrick Casement

'[The Fundamentals of Psychoanalytic Technique] is encyclopaedic in its consideration of the various theories of psychoanalytic technique... It is catholic in its inclusiveness, but at the same time, the panorama it presents has been distilled through the author's intelligence so that it has the mark of personal scholarship... These topics are covered in a thoughtful and critical way, with numerous cross-references between them. Etchegoyen is a gentleman; always thoughtful and respectful, he considers each point of view with an impressive even-handedness and objectivity. When he disagrees or criticizes, he is straightforward and direct, never pulling punches or mincing words, but at the same time he manages never to be polemical. For instance, although he has serious criticisms of many of Lacan's ideas, I found his exposition of them to be no less respectful, and more lucid, than any I have read by Lacan's adherents. This alone is worth the price of the book.'
- Robert Caper, MD
About the Author(s)
Horacio Etchegoyen, psychoanalyst and author of the seminal and widely acclaimed The Fundamentals of Psychoanalytic Technique, was the first Latin-American President of the International Psychoanalytical Association (IPA), from 1993 to 1997, an Honorary Vice-President of the IPA, and President of the Asociaciòn Psicoanalitica de Buenos Aires (APdeBA) from 1977 to 1978.
Customer Reviews
Our customers have given this title an average rating of 5 out of 5 from 1 review(s), add your own review for this title.
Norberto Bleichmar Berman on 04/12/2005





(5 out of 5)
The best book available today on psychoanalytic thecnique. Complete. Well written. Enormous clinical value.
You may also like