Becoming Yourself: Overcoming Mind Control and Ritual Abuse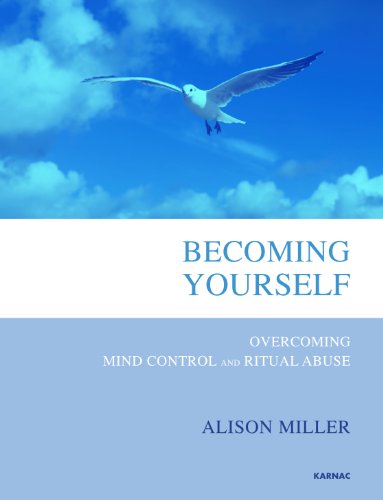 Book Details
Publisher : Routledge
Published : May 2014
Cover : Paperback
Pages : 408
Category :
Trauma and Violence
Category 2 :
Popular Psychology
Catalogue No : 34803
ISBN 13 : 9781782200765
ISBN 10 : 1782200762
Also by Alison Miller
In contrast to the author's previous book, Healing the Unimaginable: Treating Ritual Abuse and Mind Control, which was for therapists, this book is designed for survivors of these abuses. It takes the survivor systematically through understanding the abuses and how his or her symptoms may be consequences of these abuses, and gives practical advice regarding how a survivor can achieve stability and manage the life issues with which he or she may have difficulty. The book also teaches the survivor how to work with his or her complex personality system and with the traumatic memories, to heal the wounds created by the abuse.
A unique feature of this book is that it addresses the reader as if he or she is dissociative, and directs some information and exercises towards the internal leaders of the personality system, teaching them how to build a cooperative and healing inner community within which information is shared, each part's needs are met, and traumatic memories can be worked through successfully.
Reviews and Endorsements
'This is a brilliant, practical, and sensitively written roadmap to healing for survivors of ritual abuse and mind control. As Dr Miller so eloquently states, "a dissociative disorder is mental injury rather than mental illness, and, therefore, requires a different treatment". This book provides understanding, validation, and a path to overcoming fear while walking through the difficult road to freedom that healing entails.'
— Carol Rutz, author of A Nation Betrayed: The Chilling True Story of Secret Cold War Experiments Performed on Our Children and Other Innocent People

'This incredible book gives voice to the many ritual abuse survivors who, over the years, have suffered from the brutal and severe abuse of cults and mind control programming. Its guidance and information can help survivors recover from this horrible abuse by directly addressing the actual programming techniques of cults, agencies, and secretive organisations, as well as by explaining their effects, through the purposeful creation of dissociative and fragmented mind states causing trauma-based polyfragmented dissociative identity disorder. These states or personalities are created for a variety of roles in these groups, both to fulfil their agendas and to commit violent crimes. I recommend this book to survivors, their helpers, and anyone interested in knowing the truth about ritual abuse and how cult polyfragmented dissociative
identity disorder is produced.'
— Neil Brick, ritual abuse and mind control survivor, child abuse researcher, founder of S.M.A.R.T (Stop Mind Control and Ritual Abuse Today), and coordinator of the annual Ritual Abuse, Secretive Organizations, and Mind Control conference

'If you are looking for acceptance and respect, if you want to believed, if you seek a guide who is brilliant and caring, analytic and empathetic – then you have found a sanctuary in Alison Miller's Becoming Yourself.'
— Wendy Hoffman, survivor therapist and contributor to this book

'Dr Miller is a strong, competent writer and an empathetic, qualified expert in the area of trauma and dissociation. Decades of treating survivors of abuse have enabled her to display an intimate knowledge of ritual abuse and mind control. She speaks to fulfilling survivors' thirst for both validation and reliable information. Her inclusion of valuable exercises and survivors' stories assures survivors that, despite the difficulty or length of time in therapy, they can succeed and live the life that everyone deserves. Whether survivor, therapist, or supporter, this book is invaluable.'
— Felicity Lee, founder of the Ivory Garden Dissociative Identity Disorder Support Group
About the Author(s)
Alison Miller is a clinical psychologist recently retired from private practice in Victoria, British Columbia, Canada. She worked for many years in child and youth mental health services, helping children and families, and developing the LIFE Seminars parent education programs. Since 1991, Dr Miller has been treating and learning from persons who have experienced organized childhood abuse, in particular mind control and ritual abuse. She wrote Healing the Unimaginable to help therapists treating such survivors, and Becoming Yourself to assist survivors in their own healing process.
You may also like