From the Trenches: A Victim and Therapist Talk about Mind Control and Ritual Abuse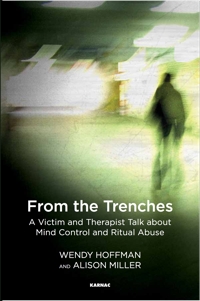 Book Details
Publisher : Routledge
Published : November 2017
Cover : Paperback
Pages : 336
Category :
Trauma and Violence
Catalogue No : 40435
ISBN 13 : 9781782206019
ISBN 10 : 1782206019
Also by Alison Miller
Also by Wendy Hoffman
Though desiring retirement, psychologist Alison Miller offered help to the respected mind control and ritual abuse victim Wendy Hoffman. Through Wendy's internal investigations, they discovered how Illuminati and Nazi programming works, its international goals, as well as finding out new ways to uncover the hidden, and to heal. Their goal was to gain clarity about Wendy's cult personas, and to learn how to integrate a complicated, tortured brain.
In these varied essays in two voices, Alison reaches out to all survivors, pointing out the lies they may believe, giving them hope and skills for recovery; and Wendy talks about her own experiences as a slave and marionette, and also offers hope for healing and understanding for how to overcome the many obstacles on this path to freedom. Some of the essays are addressed primarily to therapists, others to survivors.
This book of essays follows Alison's book for therapists in this field and her other book for survivors of these abuses. It also follows Wendy's two memoirs and her book of poetry. Its subject matter is advanced and will be of great interest to survivors, therapists, the interested community and support people.
About the Author(s)
Wendy Hoffman has published three memoirs, The Enslaved Queen (Karnac Books, 2014, new edition by Aeon Books, 2019), White Witch in a Black Robe (Karnac Books, 2016, new edition by Aeon Books, 2019) and A Brain of My Own (Aeon Books, 2020, Karnac Books 2023). The Enslaved Queen has been translated and published in Germany (Asanger-Verlag, 2021). Her book of poetry, Forceps, was also published (Karnac books, 2016) along with a book of essays, From the Trenches, written with Dr. Alison Miller (Karnac Books, 2018). Her fourth memoir, After Amnesia, is published on the SmartNews and Survivorship websites (2022). Her poetry book Belonging is forthcoming from Kelsay Books, Fall 2023.
Alison Miller is a clinical psychologist recently retired from private practice in Victoria, British Columbia, Canada. She worked for many years in child and youth mental health services, helping children and families, and developing the LIFE Seminars parent education programs. Since 1991, Dr Miller has been treating and learning from persons who have experienced organized childhood abuse, in particular mind control and ritual abuse. She wrote Healing the Unimaginable to help therapists treating such survivors, and Becoming Yourself to assist survivors in their own healing process.
You may also like