Healing the Unimaginable: Treating Ritual Abuse and Mind Control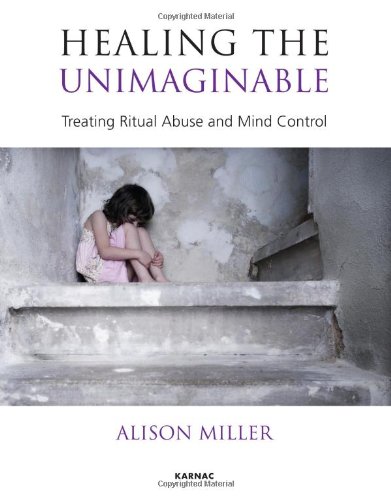 Also by Alison Miller
Healing the Unimaginable: Treating Ritual Abuse and Mind Control is a practical, task-oriented, instructional manual designed to help therapists provide effective treatment for survivors of these most extreme forms of child abuse and mental manipulation.
Reviews and Endorsements
'If you do not have a patient who has gone through these experiences, this is initially a deeply frightening book, as well as a crucial book. It is not a book that soft-soaps the reader along the grades of obscene hierarchy between "mild" trauma and major. It goes straight to the jugular of the worst realities that exist, and is not trying to apologize for, or justify, their existence. Enough research has been carried out; enough survivors have come forward with their unique constellations of physical and mental pain. Alison Miller is writing for those who know what exists and want and need help in understanding it further.'
- Valerie Sinason, Director of the Clinic for Dissociative Studies, from the Foreword

'In Healing the Unimaginable, Dr Alison Miller provides you with the information, tools, and reassurance that you need in order to treat this challenging population with confidence and skill. She demystifies the methods used by perpetrator groups to create programming and to ensure the victims' belief in their abusers' omnipotence. She breaks down this complicated topic into its manageable parts, and, most importantly, provides what therapists always really want in their training manuals: a step by step "how-to" guide. Dr Miller has been doing this work for many years, and it shows. This is the book we all have been waiting for. It shines a much needed, long overdue, and perfectly designed light on a form of abuse that has been protected by darkness for too long.'
- E. Sue Blume, LCSW, author of Secret Survivors: Uncovering Incest and its Aftereffects in Women

'At last, a much needed contemporary exposition of the treatment of the sequelae of ritual
abuse and mind control. Dr Miller has provided a systematic and demystifying guide for therapists who work with this challenging population.'
- Sandra Paulsen, PhD, author of Looking Through the Eyes: An Illustrated Guide for EMDR Therapists and Their Clients

'A perfect balance between depth, readability, and extensive hands-on experience, Healing the Unimaginable gently leads the reader through the darkest and largely unexplored areas of man-made trauma: Ritual Abuse and Mind Control. While many therapists think it unlikely that they will ever come across a survivor of such trauma, these cases are, in fact, less rare than one would like to believe; and recognizing the language of such survivors is thus our duty of care. This is an excellent handbook, to be read, re-read, and consulted many times over.'
- Adah Sachs, Consultant Psychotherapist, Clinic for Dissociative Studies, co-author of Forensic Aspects of Dissociative Identity Disorder
About the Author(s)
Alison Miller is a clinical psychologist recently retired from private practice in Victoria, British Columbia, Canada. She worked for many years in child and youth mental health services, helping children and families, and developing the LIFE Seminars parent education programs. Since 1991, Dr Miller has been treating and learning from persons who have experienced organized childhood abuse, in particular mind control and ritual abuse. She wrote Healing the Unimaginable to help therapists treating such survivors, and Becoming Yourself to assist survivors in their own healing process.
You may also like