The Enslaved Queen: A Memoir about Electricity and Mind Control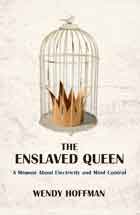 Book Details
Also by Wendy Hoffman
Paperback
£9.99
Usually despatched within 4-5 working days
Free delivery worldwide
This title has been delisted and is no longer available to purchase
Written by a survivor of mind control and ritual abuse who is also a therapist, this memoir exposes the existence and practices of organized criminal groups who abuse children, helps survivors of those abuses, and provides important information for professionals about the dissociative brain. The author's poetic prose contrasts with the horror of the subject matter.
The adult journeys back to give voice to infant and child parts of her, describing her handlers' early interventions to destroy bonding and create dissociation, the foundation of reverse-Kabbalah suicide and pathway programming, and the installation of mind control. Scenes from ordinary life are interspersed throughout the memoir. Nazi post-war recruitment of American subjects during the 1940s and 50s (including the infamous Dr. Mengele), children used for prostitution, pornography and the drug trade along with the workings of the Illuminati leadership and their international Feast of the Beast rituals are all included.
The memoir also covers attempts at recovery, experiences with cult therapists in disguise and finally the author's work with an honest, competent therapist, which led to healing and her brain melding together. The ending acknowledges spiritual experiences, the power of love, the memory process, and thoughts on living and surviving a life such as hers.
Reviews and Endorsements
'This is a moment of social and publishing history for such a work to be published. How many are ready for it? It is not hidden in dissociative academic language nor is there a distraction of either sentimentality or personal tragedy. Instead, the reader becomes part of the banality of scientific abusive normality in which every moral and generational concern for children is overturned. This is mind control at its rawest.'
— Valerie Sinason, Director of the Clinic for Dissociative Studies, author of Trauma, Dissociation and Multiplicity

'Wendy Hoffman's heartbreaking, vivid, and elegant book is a gift to humanity. It would be a brilliant novel, if it were fiction. But it is not. At great personal risk, she has gathered the shattered shards of her soul together to remember and tell, to bear witness, because she must, for herself, and all the others. The Enslaved Queen is a searing testament to the dignity that results from facing the truth, no matter how painful.'
— E. Sue Blume, LCSW, author of Secret Survivors: Uncovering Incest and its After-Effects in Women

'As the witness who watched Wendy suffer through painful body memories and emotional devastation on her journey to wholeness, I can attest to the reality of her experiences. This is not a book for the faint-hearted, but it is an important book both to tell us what is going on in the world, and to let us know that courageous souls can overcome mind control and reach
wholeness.'
— Alison Miller, psychologist, author of Healing the Unimaginable: Treating Ritual Abuse and Mind Control and Becoming Yourself: Overcoming Mind Control and Ritual Abuse, and founder of LIFE Seminars

'What these pages recount is both sad and frightening. Wendy Hoffman is one of those writers to whom Kent's words in King Lear apply: "… whilst I can vent clamour from my throat / I'll tell thee thou dost evil." She has done it and done it well and thoroughly and unforgettably.'
— Baron Wormser, author of Teach Us That Peace and The Road Washes Out in Spring
About the Author(s)
Wendy Hoffman is a survivor of organized criminal abuse and has been a psychotherapist for over two decades working in general practice and the field of recovering dissociated memories. She has a Masters in Social Work and two Masters of Fine Arts. Her first memoir, The Enslaved Queen: A Memoir about Electricity and Mind Control, was published by Karnac Books in 2014, and her book of poetry, Forceps: Poems about the Birth of the Self, appeared in 2016. Now that she has brought together the separated parts of her mind, taken her life back, and achieved freedom, she wants to help other survivors also become free of mind control.
You may also like