Inside Views from the Dissociated Worlds of Extreme Violence: Human Beings as Merchandise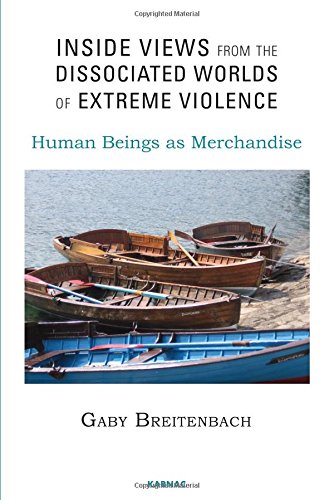 Book Details
Publisher : Routledge
Published : April 2015
Cover : Paperback
Pages : 272
Category :
Trauma and Violence
Category 2 :
Forensic
Catalogue No : 36577
ISBN 13 : 9781782202455
ISBN 10 : 1782202455
This book is primarily for psychotherapists, but is also for professionals such as lawyers, judges, doctors, and the clergy, and for victims. Different perspectives describe worlds of sadistic violence, revealing how human beings are deliberately and persistently broken. It explores how victims are used and abused in the context of pornography, prostitution, and snuff videos; how they are deprived of their rights through mind control: degraded to nothing more than objects, abused at the push of a button according to the desires of the tormentors.
Claims by the "false memory" movement aid the tormentors, and this is reflected in the language these groups use. With an explanation of the diverse structures of dissociation, ranging from dissociation as the reaction of an organism, through conditioning, all the way to programming, the author develops a structural model for treating victims of extreme violence and mind control.
Reviews and Endorsements
'Gaby Breitenbach explains that we have a duty to provide adequate treatment to those human beings who have borne witness to this dark world. Are we courageous enough in our hearts and in our minds to listen to them and to grant our patients their right to be heard, as she describes so aptly?'
— Ellert Nijenhuis, psychologist, psychotherapist, researcher, author of Somatoform Dissociation: Phenomena, Measurement, and Theoretical Issues

'Child abuse by organized perpetrator groups has been ignored for much too long in the literature both on child abuse and on dissociation. Gaby Breitenbach's groundbreaking work in this area deserves to be available to English-speaking therapists, as it sheds light on this hidden world and its effects in structuring the complex personality systems of survivors.'
—Alison Miller, psychologist; author of Healing the Unimaginable: Treating Ritual Abuse and Mind Control and Becoming Yourself: Overcoming Mind Control and Ritual Abuse

'This book delves deeply into the meaning of dissociation, its causes and mechanisms. The author is a compassionate and observant therapist in Germany who has packed this book with important observations and information about how extreme violence fragments the brain. Translated from the German, this book clearly explains what motivates perpetrators for power and survivors for survival. Ms. Breitenbach captures the texture of life in her clients' sadistic, organised cult families. She is particularly strong on describing the cult's sadistic violence for its own sake committed by some of the "upstanding" citizens of higher society. Also vivid are her depictions of how the human brain works, what humans do unconsciously to survive, and how to heal from dissociation. This book is written for psychotherapists but would be helpful to all people interested in this field, survivors and support people.'
-- Wendy Hoffman, psychotherapist and author of White Witch in a Black Robe: A True Story About Criminal Mind Control

'Gaby Breitenbach encourages us to listen in order to hear the voices of deeply affected victims —survivors of unbearable and unbelievable violence, a violence which destroys the life of young children forever, and also affects their families and friends. She refutes the questioning of victims' reports with a comprehensive and clear description of the facts. Although doubt is necessarily part of any scientific discussion, there is no longer any doubt that child pornography exists, that human sex trafficking exists, that sexual exploitation of young children exists, and that children are sold by their own parents for sexual slavery. The effects on survivors are devastating. The book provides an inside view into this extreme and largely concealed form of violence. In her writing, Gaby Breitenbach provides both professionals and victims with a model which helps them understand the situation of severely traumatized people. The book is a great help in bringing light into a dark reality.'
— Werner Tschan MD, Psychiatrist, Switzerland
About the Author(s)
Gaby Breitenbach is a psychologist and psychological psychotherapist. As well as working with clients who suffer from traumatic experiences, she is also a system therapist and behaviour therapist. In 1985 she first encountered the topic of extreme traumatization, and has now founded a house ('Vielseits') for survivors of extreme violence, based in Germany.
You may also like