Bearing Witness: Psychoanalytic Work with People Traumatised by Torture and State Violence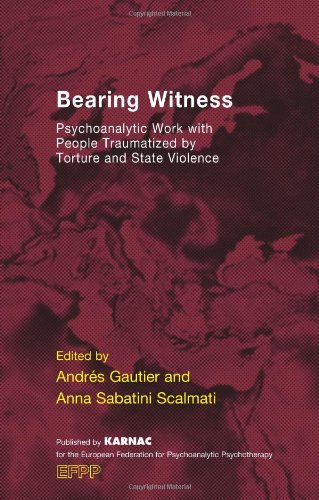 Book Details
Publisher : Karnac Books
Published : 2010
Cover : Paperback
Pages : 200
Category :
Trauma and Violence
Category 2 :
Psychoanalysis
Catalogue No : 28301
ISBN 13 : 9781855757967
ISBN 10 : 1855757966
'In their discussion of torture, the contributors to this book write of what its victims cannot put into words and the work that has to be done with them to that end. Working with a victim's account of a traumatic experience goes much further than any debriefing technique would have us believe - above all, victims need someone to listen carefully to what they have to say; that person will be the first to offer a refuge for the pain of those who have no internal "shelter" of their own.
The authors go on to discuss the kind of mental processing that can free victims from their unspeakable trauma, a trauma that has no framework in time nor words with which to express it.
Under the skilful editorship of Andres Gautier and Anna Sabatini, this book asks of both psychoanalysts and politicians a question that goes right to the heart of their "impossible professions".
- Rene Kaes, from the Foreword
Reviews and Endorsements
Contributors
Silvia Amati Sas, Mary Raphaely, Anna Sabatini Scalmati, Paulina Ceppi di Lecco Reyes and Alejandro Reyes, Liselotte Grunbaum, Francois Fleury and Shadman Mahmoud-Shwana, Gabriela Mann, Katarina Ley, Andres Gautier
About the Editor(s)
Andres Gautier (Bolivia) Ph.D. is an adolescents and adult psychotherapist. He has worked for many years in Switzerland as psychoanalyst, psychotherapist and supervisor in private practice and penitentiary institutions. He is coordinator of the working group of the EFPP on ""Trauma and State Violence"". In 2001 he founded, together with Emma Bolshia Bravo, the Institute for Therapy and Research on the Sequels of Torture and State Violence (ITEI) in La Paz, Bolivia.
Anna Sabatini Scalmati (Italy) is a psychoanalytical psychotherapist, training and supervising member of the Italian Association of Psychoanalytical Psychotherapy for Children (AIPPI) and member of the Italian Association of Psychoanalytic Psychotherapy for Adults (SIPP) She lives and works in Rome and is author of several articles.
You may also like