Writing on the Moon: Stories and Poetry from the Creative Unconscious by Psychoanalysts and Others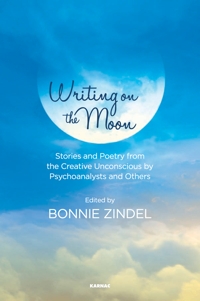 Book Details
Publisher : Routledge
Published : February 2017
Cover : Paperback
Pages : 240
Category :
Psychoanalysis
Catalogue No : 38824
ISBN 13 : 9781782204602
ISBN 10 : 1782204601
This innovative book offers a collection of creative writings by psychotherapists – poems, short stories, and creative non-fiction. The
themes tap into our most passionate and spontaneous selves, raiding the inarticulate, as we hear the creative voices of psychotherapists as never before. Two questions are implicitly addressed: Why is creativity important to psychoanalysis? And how can a therapist's analytic mind be receptive to the artistic voice?
Writing on the Moon: Stories and Poetry from the Creative Unconscious by Psychoanalysts and Others is a collection of the best works published over the past fifteen years in the Creative Literary Section of Psychoanalytic Perspectives, along with imaginative introductions by literary editor Bonnie Zindel.
Some writings are raw and honest, some are dark and access our primal being. Others, filled with beauty, illuminate the internal life, the playful mind, and unconscious doodlings that might otherwise remain unformulated. The work is not scholarly or polite.
Creativity has long fascinated psychoanalysis, from Freud's studies of Michelangelo and Leonardo, to Marion Milner's interest in artists and analysts. Plato called creativity "divine madness."
The book's contributors include Robert Stolorow, Thomas Ogden, and D.W Winnicott, and submissions came from as far as South Africa, Australia, England, France, Israel, and the United States - offering a glimpse into the private world of psychotherapists, who hold so much in their work with patients.
In the romance between poetry, stories, and psychoanalysis, the book exalts the rich soil of our originality and imagination -- and raises the question: Why is creativity important in psychoanalysis?
Reviews and Endorsements
'In all of our published work, until now, the creativity of psychoanalysts has been limited to the expressiveness and evocativeness of our clinical descriptions and theoretical contributions. In this enchanting new volume, Bonnie Zindel gives psychoanalysts and those inspired by psychoanalysis a chance to unleash their creative energies and show a different face. It is the face of our insides turned outward, the creative unconscious reaching out, not only from our minds but also from our depths and towards our common humanity.'
— Jody Messler Davies, PhD, New York University Postdoctoral Program and the Stephen Mitchell Center for Relational Studies

'Writing on the Moon is a profoundly extraordinary and compassionate compilation of poetry, art, and narratives, born out of the world and pens of psychoanalysts and creative artists. The honesty and courage of each voice, uninhibited in its candid search for reason and sense, moves us to share in the wonders of the universal bond. Bonnie Zindel has curated a deeply human book, whose democracy of shared visions is a treasure. She inspires us to move the power of words infinitely forward.'
— James Ragan, PhD, Distinguished Professor of Poetry at Charles University, Prague, and former Director of the University of Southern California Graduate Professional Writing Program

'Inspired by powerful emotions and rich fantasies, Bonnie Zindel, a psychoanalyst and writer, has gathered a remarkable collection of creative works that pay homage to the wisdom of the unconscious as we grapple with the human condition and personal traumas.'
— Sophia Richman, PhD, author of Mended by the Muse: Creative Transformations of Trauma
About the Editor(s)
Bonnie Zindel, LCSW, is a psychoanalyst in private practice in New York, and a faculty, supervisor, and training analyst at the National Institute for the Psychotherapies. A founding editor and Creative Literary Editor of Psychoanalytic Perspectives, she is the author of numerous articles on creativity. Bonnie is a former member of the Actors Studio Playwrights Unit and has conducted writing groups for psychoanalysts for over twenty years, as well as writing workshops at international conferences in Rome, Madrid and San Francisco.
You may also like