A Study of Malignant Narcissism: Personal and Professional Insights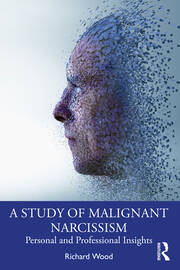 Book Details
Publisher : Routledge
Published : August 2022
Cover : Paperback
Pages : 212
Category :
Individual Psychotherapy
Catalogue No : 96678
ISBN 13 : 9781032160597
ISBN 10 : 9781032160
A Study of Malignant Narcissism offers a unique insight into malignant narcissism, exploring both its personal and professional aspects and constructing a theoretical framework that renders its origins and manifestations more accessible.
With reference to his own family dynamic and to 45 years of professional experience, Richard Wood explores the psychology of malignant narcissism, positing it as a defence against love. The book ?rst o?ers an overview of existing literature before examining relevant clinical material, including an analysis of Wood's relationships with his own parents. Wood presents vignettes illustrating the core dynamics that drive narcissism, illustrated with sections of his father's unpublished autobiography and with his patient work. The book makes the case for malignant narcissism to be considered a subtype of psychopathy and puts forth a framework setting out the key dynamics that typify these individuals, including consideration of the ways in which malignant narcissism replicates itself in varied forms. Finally, Wood examines the impact of narcissistic leadership and compares his theoretical position with those of other clinicians.
This book will be of interest to clinical psychologists, psychoanalysts, and psychotherapists, as well as all professionals working with narcissistic patients.
Reviews and Endorsements
'A Study of Malignant Narcissism is an essential contribution to the growing literature on dangerous personalities and the destruction they cause. Courageous, searingly honest, and deeply moving … A rare combination of compelling biography and crucial work of science, this is essential reading for our disordered times. An invaluable work of wisdom and experience.' - Ian Hughes, Senior Research Fellow, MaREI Centre at University College Cork, Ireland.

'This fine book offers a marvellous combination of often hair-raising raw experience with thoughtful, illuminating reflection and insightful commentary. Dr Wood throws much needed light on character formation and function, defensive deformation of personality, … and resilience. This is a courageous, timely, well written, important book.' - Dr Brent Willock, Founding President of the Toronto Institute for Contemporary Analysis, Canada.

'With superb prose, Dr. Wood provides a scholarly and informative description of the characteristics and behaviors of individuals with narcissistic personalities … For anyone wanting to learn about psychopathy and malignant narcissism, and how this knowledge might apply to autocratic leaders, this is the book to read.' - Graeme J. Taylor, MD, FRCPC, Psychoanalytic Fellow of the American Academy of Psychoanalysis and Dynamic Psychiatry and Professor University of Toronto, Canada.
About the Author(s)
Richard Wood, PhD, is a psychoanalytically oriented clinical psychologist based in Ontario, Canada, with over 45 years of experience. He was educated at Cornell University and Wayne State University.
You may also like