Working with Complexity in PTSD: A Cognitive Therapy Approach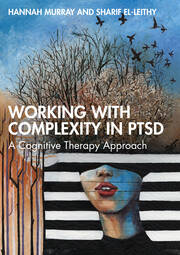 This accessible, evidence-based book provides readers with a practical framework to understand, formulate, and treat PTSD using the cognitive model while creatively adapting for complexity.
Cognitive therapy for PTSD is a highly effective treatment, but aspects of clinical complexity can complicate treatment and limit its effectiveness. Trauma memories themselves can be complex, the associated meanings can resist change and people may struggle to engage with them without feeling overwhelmed. Problems that commonly arise alongside PTSD add to clinical complexity, such as comorbid psychological or physical disorders, social problems, and ongoing risks. Bringing together the science and art of therapy, this book demonstrates how to approach these issues by holding firm to the principles of CBT, whilst flexing and creatively adapting techniques for each unique circumstance. Rich case studies, top tips, and frequently asked questions are used throughout to demonstrate the approach.
Written by clinicians for clinicians, the book synthesizes the latest research into a practical treatment manual to help readers overcome obstacles in PTSD treatment and 'supercharge' their therapy skills.
Reviews and Endorsements
This book is a fine example of 'clinical flexibility within the framework of empirical fidelity' in the treatment of patients with PTSD and co-occurring disorders. It is filled with a very useful collection of clinical interventions that you can use immediately. A combination of clinical wisdom and scholarship, KUDOS! - Donald Meichenbaum, Ph.D., Research Director of the Melissa Institute of Violence Prevention, Miami Florida.

Every therapist working with PTSD encounters complexities not addressed in training programs and treatment manuals. This is that rare book that addresses the broad range of challenging circumstances and complications that can so easily derail trauma treatment. With utter clarity, the authors detail multiple creative clinical strategies for managing nearly every potential stuckpoint likely to be encountered during trauma work. Practical and empirically grounded, this engaging text will empower and enlighten every therapist who reads it. - Christine A. Padesky, Author of The Clinician's Guide to CBT Using Mind Over Mood

"Here is the book you've been waiting for, focusing on what you're most likely to see when you're working with clients with PTSD - complexities ranging from avoidance to multiple traumas to risky behaviours. Hannah Murray and Sharif El-Leithy provide a no-nonsense guide to treating the many complexities linked to PTSD without losing sight of the science behind the treatment. I have no doubt this book will become a well-thumbed volume, equipping therapists to transform the lives of the many people debilitated by trauma and PTSD." - Jennifer Wild, Associate Professor, University of Oxford & Author of Be Extraordinary
About the Author(s)
Dr Hannah Murray is a Research Clinical Psychologist based at the Oxford Centre for Anxiety Disorders and Trauma, University of Oxford. She works clinically and in research to develop, test and disseminate treatments for Post-Traumatic Stress Disorder, particularly Cognitive Therapy for PTSD.
Dr Sharif El-Leithy is a Research Clinical Psycologist specialising in psychological reactions to life-threatening traumas. He has over 20 years of experience in using cognitive-behavioural therapy to treat PTSD arising from complex traumatic experiences, including victims of war, torture, and domestic and childhood abuse.
You may also like