Complex Trauma: The Tavistock Model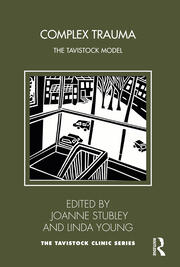 Book Details
Publisher : Routledge
Published : December 2021
Cover : Paperback
Pages : 330
Category :
Trauma and Violence
Catalogue No : 96173
ISBN 13 : 9781032129983
ISBN 10 : 9781032129
The new diagnosis of Complex Post Traumatic Stress Disorder presents diagnostic and treatment challenges that need to be grappled with, since, in a troubled world, it is increasingly important to understand the impact and aftermath of traumatic experiences and, crucially, how to work with those affected by them.
In Complex Trauma, Joanne Stubley and Linda Young have assembled a fascinating range of approaches in order to explore the questions of understanding and intervention. They detail the relevance of an applied psychoanalytic approach, both in the Tavistock Trauma Service and, more broadly, in illuminating understanding of traumatized individuals. The book includes chapters related to the impact of trauma on the body, as well as on the mind, incorporating neurobiological and attachment theory to develop ideas on the impact and aftermath of complex trauma. A number of specialist areas of trauma work are covered within this volume, including work with adolescents, with refugees and asylum seekers, with military veterans, and with survivors of child sexual abuse.
The editors bring together chapters that will be of interest to those working with traumatized individuals in a variety of settings and using different modalities. The central importance of relationships, as understood within the psychoanalytic model, is depicted throughout as being at the heart of understanding and working with traumatic experience.
Reviews and Endorsements
Nominated for the 2022 Gradiva® Award for Best Edited Book.
About the Editor(s)
Joanne Stubley is a Consultant Medical Psychotherapist and Psychoanalyst, and lead clinician in the Tavistock Trauma Service since 2008. She has written widely and teaches both nationally and internationally on complex trauma. While continuing to develop a multi-modal, phase-based Trauma Service in the NHS that is innovative and trauma-informed, she sees the relational understanding offered by psychoanalysis as key to the work.
Linda Young is a Consultant Clinical Psychologist and Psychoanalyst with over 30 years of clinical and teaching experience. She has been part of the Tavistock Trauma Service since 1990, including co-designing, organizing, and leading the one-year part-time course, Understanding Trauma. In addition to working within the field of trauma, a particular area of expertise is working with adolescents and young adults, in the Tavistock Adolescent and Young Adult Service.
You may also like