When the Dust Settles: Stories of Love, Loss and Hope from an Expert in Disaster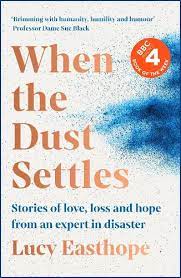 Book Details
Publisher : Hodder & Stoughton
Published : April 2022
Cover : Hardback
Pages : 292
Category :
Trauma and Violence
Category 2 :
Memoir
Catalogue No : 96426
ISBN 13 : 9781529358247
ISBN 10 : 9781529358
Lucy Easthope lives with disaster every day. When a plane crashes, a bomb explodes, a city floods or a pandemic begins, she's the one they call.
Lucy is a world-leading authority on recovering from disaster. She has been at the centre of the most seismic events of the last few decades, advising on everything from the 2004 Boxing Day tsunami to the 7/7 bombings, the Christchurch earthquake in New Zealand, the Grenfell fire and the Covid-19 pandemic. In every catastrophe, Lucy is there to pick up the pieces and prepare for the next one. She holds governments to account, helps communities rally together, returns personal possessions to families, and holds the hands of the survivors.
In her moving memoir she reveals what happens in the aftermath and explores how we pick up and rebuild with strength and perseverance. She takes us behind the police tape to scenes of destruction and chaos, introducing us to victims and their families, but also to the government briefing rooms and bunkers, where confusion and stale biscuits can reign supreme. Telling her own personal story, Lucy looks back at a life spent on the edges of disaster, from a Liverpudlian childhood steeped in the Hillsborough tragedy to the many losses and loves of her career.
With wisdom, resilience and candour, When the Dust Settles lifts us up by showing that humanity, hope and humour can - and must - be found on the darkest days.
Reviews and Endorsements
*A RADIO 4 BOOK OF THE WEEK*

'An essential, uplifting read, brimming with humanity, humility and humour' - Professor Dame Sue Black

A book of horror and hope, written with rare humanity. - John Sutherland, bestselling author of Blue and Crossing The Line

A riveting no-nonsense memoir that pulls back the curtains on your worst fears and shows you that someone, somewhere, will always truly care. - Jenny Colgan

Outstanding... a graphic but deeply humane account of what drew her to take on such work, and how she steels herself to tackle the worst of human scenarios. - The Bookseller

"I think what 'When the Dust Settles' taught me is that all experiences are of value, even major disasters of the sort that Easthope has experienced over her extraordinary career. In the words of Leonard Cohen:

"There is a crack, a crack in everything. That's how the light gets in"

Easthope shows us how perfection and imperfection are woven together. Everything is flawed. Yet there is also hope despite the flaws. It is through the cracks, and through the dogged dedication of disaster experts like Easthope, who has been an adviser on nearly every major disaster for the last twenty years, that the light comes in. Hold onto that thought as we navigate dark days ahead." - Rachel Kelly, mental health advocate and author of Sunday Times bestseller Black Rainbow: How words can heal - my journey through depression.

'This generosity is one of the things that makes the book so powerful, all the more as it never slips into a sentimental glossing over of incompetence or insensitivity. Easthope makes no secret of her anger, but takes care that it should be properly understood and directed, and doesn't create more stigma, fear, defensiveness and failure. Both in its style and in its substance, this is a profoundly moral book, written with deceptive conversational ease; it opens up a world of terrible and extreme experience, but stubbornly continues to look at what's there, the inner and outer landscape of what Easthope is not afraid to call the soul.... whether she knows it or not, she is that rare thing, a genuine philosopher thinking through what she is actually doing in the mitigation of human suffering, grief and isolation. This book is more searching as an analysis of human needs and nature than a good many technical volumes on the subject' - New Statesman
About the Author(s)
Professor Lucy Easthope is the UK's leading authority on recovering from disaster. She has been an advisor on nearly every major disaster of the past two decades, including the 2004 Boxing Day tsunami, 9/11, the 7/7 bombings, the Salisbury Poisonings, Grenfell and most recently has been advising the Prime Minister's Office on the Covid-19 pandemic.

Lucy grew up in Liverpool and has a degree in law, a PhD in medicine and a Masters in risk, crisis and disaster management. She is a Professor in Practice of Risk and Hazard at the University of Durham and Fellow in Mass Fatalities and Pandemics at the Centre for Death and Society, University of Bath.
You may also like