Using Trauma-Focused Therapy Stories: Interventions for Therapists, Children, and Their Caregivers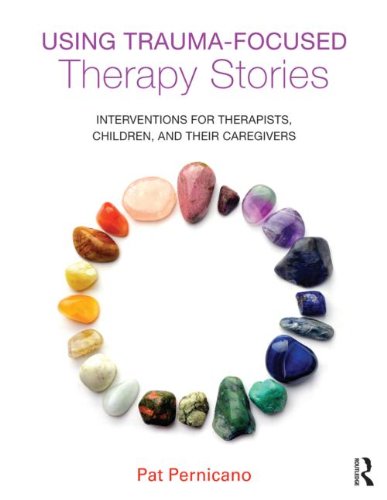 Also by Pat Pernicano
Our Customers Average Rating
Read all reviews (1)





Using Trauma-Focused Therapy Stories is a groundbreaking treatment resource for trauma-informed therapists who work with abused and neglected children ages nine years and older as well as their caregivers. The therapy stories are perfect for accompaniments to evidence-based treatment approaches and provide the foundation for psychoeducation and intervention with the older elementary aged child or early pre-teen. Therapists will also benefit from the inclusion of thorough guides for children and caregivers, which illustrate trauma and developmental concepts in easy-to-understand terms.
The psychoeducational material in the guides, written at a third- to fourth-grade reading level, may be used within any trauma-informed therapy model in the therapy office or sent-home for follow-up. Each therapy story illustrates trauma concepts, guides trauma narrative and cognitive restructuring work, and illuminates caregiver blind spots; the caregiver stories target issues that often become barriers to family trauma recovery. No therapist who works with young trauma survivors will want to be without this book, and school-based professionals, social workers, psychologists and others committed to working with traumatized children will find the book chock-full of game-changing ideas for their practice.
About the Author(s)
Pat Pernicano, PsyD, is a psychologist with South Texas Veterans Health Care System in San Antonio, where she specializes in the treatment of trauma and moral injury. She previously provided clinical and supervisory services at not-for-profit mental health agencies. Dr. Pernicano served as an associate adjunct professor and clinical faculty member in the Spalding University PsyD program from 1996 to 2015.
Customer Reviews
Our customers have given this title an average rating of 5 out of 5 from 1 review(s), add your own review for this title.
Paul Poynton on 04/06/2014 10:17:31





(5 out of 5)
A great book I bought it in the shop and lots of my work colleagues now have a copy. I work with children and young people who have been sexually abused, this is an excellent resource to have with everything else in the therapist toolkit. A most needed update on the Nancy Davies therapeutic stories and explains trauma really well in an easy and accessible way.
You may also like