Family-Focused Trauma Intervention: Using Metaphor and Play with Victims of Abuse and Neglect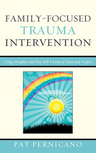 Also by Pat Pernicano
Treatment of abuse and neglect needs to be family-focused in order to reduce troubling symptoms, address family risk and relapse potential, treat cross-generational patterns, and remediate attachment deficits. Evidence-based practices are available for child and family abuse treatment, including Trauma Focused CBT, but new intervention strategies are needed that reduce family and client denial, lower defensiveness, and prevent re-traumatization during the treatment process.
Family-Focused Trauma Intervention: Using Metaphor and Play with Victims of Abuse and Neglect translates issues central to abuse and neglect recovery into metaphorical stories and family-based interventions. Each chapter provides a summary of an issue or theme, one or more pertinent stories, and parallel family, group, and individual interventions. These stories and family-focused interventions help clients regulate affect in order to reduce frequency and intensity of troubling symptoms.
This volume is the "missing link" in the current literature on therapy and metaphor, as it focuses specifically on parent-child interaction and trauma. The content of this book, which may be used within any theoretical framework, provides a wide variety of practitioners with a needed bridge between theory and practice.
About the Author(s)
Pat Pernicano, PsyD, is a psychologist with South Texas Veterans Health Care System in San Antonio, where she specializes in the treatment of trauma and moral injury. She previously provided clinical and supervisory services at not-for-profit mental health agencies. Dr. Pernicano served as an associate adjunct professor and clinical faculty member in the Spalding University PsyD program from 1996 to 2015.
You may also like