Understanding the Human Mind: Why you shouldn't trust what your brain is telling you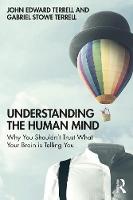 Book Details
Publisher : Routledge
Published : July 2020
Cover : Paperback
Category :
Neuroscience
Catalogue No : 95190
ISBN 13 : 9780367855789
ISBN 10 : 9780367855
Drawing on current research in anthropology, cognitive psychology, neuroscience, and the humanities, Understanding the Human Mind explores how and why we, as humans, find it so easy to believe we are right-even when we are outright wrong.
Humans live out their own lives effectively trapped in their own mind and, despite being exceptional survivors and a highly social species, our inner mental world is often misaligned with reality. In order to understand why, John Edward Terrell and Gabriel Stowe Terrell suggest current dual-process models of the mind overlook our mind's most decisive and unpredictable mode: creativity. Using a three-dimensional model of the mind, the authors examine the human struggle to stay in touch with reality-how we succeed, how we fail, and how winning this struggle is key to our survival in an age of mounting social problems of our own making.
Using news stories of logic-defying behavior, analogies to famous fictitious characters, and analysis of evolutionary and cognitive psychology theory, this fascinating account of how the mind works is a must-read for all interested in anthropology and cognitive psychology.
You may also like