The Problems with Teamwork, and How to Solve Them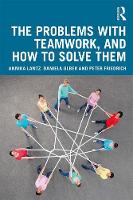 Book Details
Publisher : Routledge
Published : December 2019
Cover : Paperback
Pages : 308
Category :
Organisational Psychology
Catalogue No : 94868
ISBN 13 : 9780367172886
ISBN 10 : 0367172887
This book offers practical, evidence-based solutions to help professionals implement and support effective teamwork. Lantz, Ulber and Friedrich draw on their considerable professional experience to present common problems in team-based organizations, what empirical research tells us the causes are and which solutions are more effective in overcoming team-based obstacles. In The Problems with Teamwork, and How to Solve Them, nine common problems are identified, ranging from lack of leadership and adaptability to conflict and cohesiveness, accompanied by clear instructions on how to approach and resolve the individual issues.
Detailed case studies are presented throughout the book, demonstrating how theory can be applied to real-life situations to produce optimal results for both the team and the larger organisation. By combining theory and practice, and using state-of-the-art research, the book constructs a cognitive map for identifying problem causes and effect, and step-by-step instructions on how to solve problems.
This is essential reading for anyone working in team-based organizations, as well as students and academics in related areas such as organizational psychology and organizational behaviour.
About the Author(s)
Annika Lantz is a professor of psychology at the University of Stockholm, Sweden. Her main research interests are team development, leadership and innovation processes. She also works as a consultant for Fritz Change AB and has worked as a psychotherapist and supervisor in private practice.
Daniela Ulber is a professor at HAW Hamburg University, Germany. Her research focuses on organizational development, management and coaching as well as systemic and solution-orientated consulting in organizations.
Dr. Peter Friedrich, is a senior consultant at Fritz Change AB, Sweden, with expertise in organizational development, action research and cross-cultural studies of innovation processes. He has an academic background in industrial engineering, and is a former researcher at the Swedish National Institute of Occupational Health and Safety and the Wiesbaden Business School.
You may also like