Finding a Place to Stand: Developing Self-Reflective Institutions, Leaders and Citizens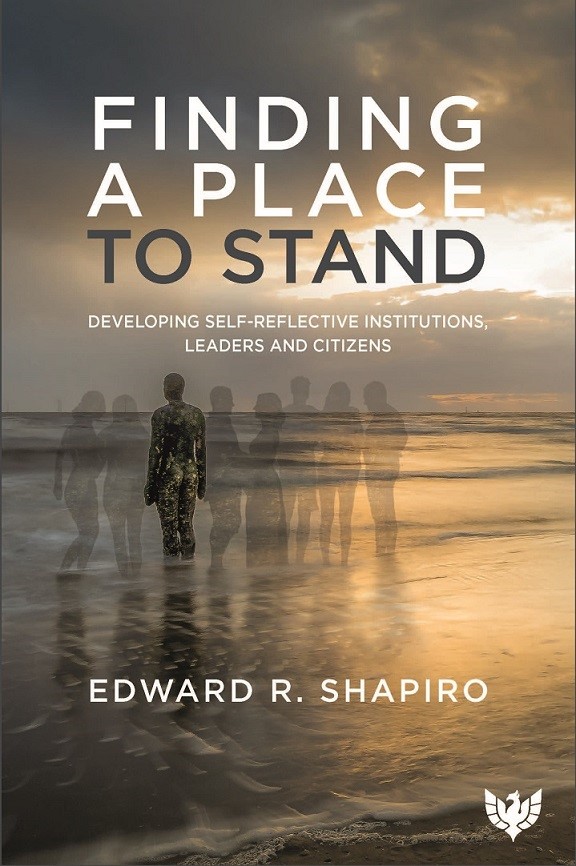 Book Details
Publisher : Karnac Books
Published : September 2019
Cover : Paperback
Pages : 180
Category :
Psychoanalysis
Category 2 :
Psychotherapy and Politics
Catalogue No : 94600
ISBN 13 : 9781912691333
ISBN 10 : 9781912691
What stands between us and authoritarianism seems increasingly fragile. Democratic practices are under attack by foreign intrusion into elections; voter suppression restricts citizen participation. Nations are turning to autocratic leaders in the face of rapid social change. Democratic values and open society can only be preserved if citizens can discover and claim their voices. We access society through our organisations, yet the collective voices and irrationalities of these organisations do not currently offer clear pathways for individuals to locate themselves. How can we move through the mounting chaos of our social systems, through our multiple roles in groups and institutions, to find a voice that matters? What kind of perspective will allow institutional leaders to facilitate the discovery of active citizenship and support engagement?
This book draws on psychodynamic systems thinking to offer a new understanding of the journey from being an individual to joining society as a citizen. With detailed stories, the steps – and the conscious and unconscious linkages – from being a family member, to entering outside groups, to taking up and making sense of institutional roles, illuminate the process of claiming the citizen role. With the help of leaders who recognise and utilise the dynamics of social systems, there may be hope for us as citizens to use our institutional experiences to discover a place to stand.
Reviews and Endorsements
This is a brilliantly realized treatment of what it means to be a citizen, and how we find our way there through the deeply personal psychological voyage we all must sail. "Finding a Place to Stand" uses cutting-edge behavioral science, clear and cogent story-telling, and a deep understanding of the human condition to create a book that should be on every citizen's nightstand.
Admiral James Stavridis, USN (Ret); Supreme Allied Commander at NATO (2009–2013); Dean, The Fletcher School of Law and Diplomacy, Tufts University (2013–2018)

This is a book about close listening to and learning from experience, within and across the social frames in which we live, grow, work, and relate. At one level, it tells the story of one individual's own journey of discovery, as a psychiatrist keenly attuned to the social contexts in which he practices and leads. At another, it is a powerful exploration of the conscious and unconscious processes involved in finding and enabling others to find one's own voice, as an "internal citizen," in a family, a group, an organization, and a nation. Hugely ambitious, wonderfully accessible, its publication could scarcely be more timely.
David Armstrong, Associate Consultant, Tavistock Consulting, London

Taking off from the now familiar idea of studying "the individual in context," Dr. Shapiro brilliantly extends this concept from the parent–child matrix, to the couple, the developing family, the group – a social or work entity – and onto the larger collectives of institutions and political cultures. The trajectory of this book also covers the four decades of Shapiro's work experiences: in individual treatment, in hospital administration, in group dynamics, and in the study of group relations. It is an amazing ride. He is educating us so carefully in the ways that unconscious forces, splitting, and conflict, at every level of social organization, impede and shape our individual and social capacities. Read this book as an individual, as a practitioner, but, above all, as a citizen. A fascinating, containing guide in turbulent times.
Adrienne Harris, psychoanalyst, New York University, NYU Postdoctoral Program in Psychotherapy and Psychoanalysis

Finding a Place to Stand is a psycho–socio–political tour de force – carefully, steadily, and powerfully building the case for conscious integration of our multiple human identities so that we can learn to coexist and participate as citizens in an increasingly complex and disruptive world. Dr. Shapiro draws deeply and effectively on his experiences, both as a psychiatrist and as a manager–leader, to set the stage for his exploration of the divisions in our society and his search for citizens who can bridge the divides.
John Shattuck, Professor of Practice in Diplomacy, The Fletcher School of Law and Diplomacy; U.S. Assistant Secretary of State for Democracy, Human Rights and Labor (1993–1998); U.S. Ambassador to the Czech Republic (1998–2000)

The book's sections flow cohesively from one to the next, so the logical progression of the argument becomes clear. The author explores the complex psychological dynamics of individuals, families, groups, and organisations in lucid writing free of medical and scientific jargon. Throughout, Shapiro cites pertinent examples and includes anecdotes, each of which aptly illustrates a key point. These stories, whether they are about individuals in families, patients in hospitals, or employees in companies, all serve to enrich the theories presented here. The author's observations also further understanding of the less-than-logical ways humans process their situations, something that seems intuitive only once it's explained. [...] An observant, discerning work on understanding and improving organisations.
Kirkus Reviews, December, 2022
Table of Contents
Pemissions
Acknowledgments
About the author
Foreword

Part I: Developmental Steps Toward Citizenship

CHAPTER ONE
Joining: How are they right?

CHAPTER TWO
Containment and Communication

CHAPTER THREE
Making Sense of Organizational Dynamics

CHAPTER FOUR
The Interpretive Stance

CHAPTER FIVE
Taking Up a Role: A Case Example

Part II: Leadership and the Self-Reflective Institution

CHAPTER SIX
The CEO: Developing Institutional Citizenship

CHAPTER SEVEN
Learning about Systems Psychodynamics

CHAPTER EIGHT
From Group Relations to Leadership

CHAPTER NINE
Shaping a Mission: Case Example

CHAPTER TEN
A Citizenship Laboratory

CHAPTER ELEVEN
Institutional Learning on Behalf of Society

Part III: A Citizen in Society

CHAPTER TWELVE
Approaching Social Interpretation Through Institutions

CHAPTER THIRTEEN
Do Nations Have Missions: American Identity

CHAPTER FOURTEEN
Citizenship as Development

CHAPTER FIFTEEN
Society as a Multicellular Learning System

Conclusion
References
Index
About the Author(s)
Edward R. Shapiro, MD, was the Medical Director/CEO of the Austen Riggs Center from 1991 to 2011. A board-certified psychiatrist, psychoanalyst, family researcher, and organisational consultant, he is also Clinical Professor of Psychiatry at Yale University School of Medicine and Principal of the Boswell Group. A founding member of the Psychoanalytic Society and Institute of the Berkshires, Dr Shapiro is a training and supervising analyst. An organisational consultant for over thirty-five years, Dr Shapiro has consulted with hospitals, mental health clinics, law firms, and family businesses. He has published over fifty articles and book chapters on human and organisational development, family functioning, and personality disorders, presenting papers in this country and abroad. His book (with A. W. Carr), Lost in Familiar Places: Creating New Connections between the Individual and Society, was published by Yale University Press as was his edited book, The Inner World in the Outer World. A Distinguished Life Fellow of the American Psychiatric Association, he is also a fellow of the A. K. Rice Institute and the American College of Psychoanalysis. Dr Shapiro has received the Felix and Helene Deutsch Scientific Award from the Boston Psychoanalytic Society, the Research Prize from the Society for Family Therapy and Research, and the Philip Isenberg Teaching Award from McLean Hospital. In 2007, he was named Outstanding Psychiatrist for Advancement of the Profession by the Massachusetts Psychiatric Association and since 2011 has been on US News & World Report's list of "Top Doctors".


You may also like