Herbert Rosenfeld – Then and Now: The Significance of His Work for Contemporary Psychoanalysis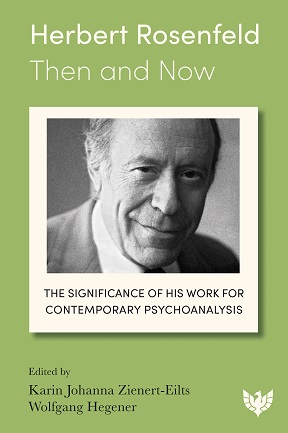 Book Details
Publisher : Karnac Books
Published : March 2024
Pages : 276
Category :
Forthcoming
Category 2 :
Psychoanalysis
Catalogue No : 97390
ISBN 13 : 1800131933
ISBN 10 : 1800131933
This collection presents new insights into the life and work of Herbert Rosenfeld and his continuing influence on psychoanalytic theory and practice. It includes accounts from both personal and professional perspectives and is illustrated with 55 black and white images.
Part I looks at historical perspectives and includes Karin Johanna Zienert-Eilts' excellent biography of Rosenfeld, Angela Rosenfeld's personal view of her father, Ronald Britton's discussion of the distinction between "defensive" and "destructive" narcissism, and Claudia Frank's look at the iconic figures of Kleinian thought. Part II shines a light on Rosenfeld's extensive supervisory work with a highly personal account from Riccardo Steiner about experience in Italy, Klaus Wilde on Rosenfeld's significance for German psychoanalysts, and reminiscences and afterthoughts from Angela Goyena. In the descriptions of his clinical work in Part III, Franco De Masi, Hans-Jürgen Eilts, Carolin Haas, and Nils F. Töpfer demonstrate how Rosenfeld's theoretical discoveries – especially his concept of destructive narcissism – and his related clinical and technical recommendations not only continue to facilitate psychoanalytic work with difficult patients today, but also made this work possible in the first place.
The final part of the book examines the sociopolitical applications of Herbert Rosenfeld's concept of destructive narcissism. It begins with a significant paper from Herbert Rosenfeld: Applying my theory of psychosis to the Nazi phenomenon. This is followed by an interview of Rosenfeld by Hermann Beland and two chapters from the editors. Wolfgang Hegener examines how Herbert Rosenfeld can help us to understand Nazi perpetrators, with a particular focus on Adolf Eichmann, and Karin Johanna Zienert-Eilts takes the lens of destructive narcissism to destructive populism to cast new light on the phenomenon.
Rounded out by a bibliography of Herbert Rosenfeld's most important writings, an extensive appendix of documents, photographs and three previously unpublished letters which are of historical significance, and prefaces from Irma Brenman Pick and John Steiner, this volume is a must-read for clinicians, academics, and trainees.
Reviews and Endorsements
This beautifully constructed book describes Herbert Rosenfeld's groundbreaking theoretical and technical contributions to the psychoanalytic understanding of psychotic processes in the individual and in society in the context of his personal history, so emblematic of the sociopolitical turmoil of Europe in the middle of the twentieth century. It will be invaluable to clinicians who treat borderline and psychotic patients and who struggle to understand the dominance that destructive processes can have on the human mind. It will also be of great interest to students of social and political science; the book is an outstanding example of the application of psychoanalytical thinking to the understanding of historical and contemporary political movements and institutions.
Vic Sedlak, training and supervising analyst and President of the British Psychoanalytical Society

Herbert Rosenfeld, one of the first to conduct psychoanalysis with psychotic patients, comes to life in this book. The editors have spared no effort in gathering records and testimonies: letters, key articles, and recollections and critical engagements from numerous colleagues, together with reminiscences from his daughter Angela Rosenfeld. Documentation is impeccable. Several contributions build on Rosenfeld's groundbreaking concept of "destructive narcissism", so useful clinically and extended, mostly by others, to political and social phenomena. His own seminal application of this concept to the Third Reich is included: the closing remarks in a 1984 presentation to the German Psychoanalytical Association in Wiesbaden. (The complete lecture in English is published here for the first time.) As someone who participated in Rosenfeld's casuistic seminars in Heidelberg in the early 1980s, I feel very much put back in touch with the warm human being I knew — and with the teacher whose intuition, rooted in vast experience, never ceased to amaze me.
Helen Schoenhals Hart, training and supervising analyst of the German Psychoanalytical Association (DPV) and of the San Francisco Center for Psychoanalysis (SFCP)

This is an amazing book that traces the work of Herbert Rosenfeld, his personal life and biography, his pioneering work with borderline and psychotic patients as well as his conceptual thinking. It contains an article by Rosenfeld himself and sketches his influence as a supervising analyst in different countries. Special emphasis is put on the sociopolitical dimension of his work on destructive narcissism. The editors and authors are renowned analysts who are familiar with Rosenfeld's thinking and clinical practice. Angela Rosenfeld contributes a moving personal view of her father. The book includes a new preface from John Steiner, added to Irma Brenman Pick's foreword to the German edition. An appendix contains many documents and photographs of Herbert Rosenfeld and his family. In my view, this book is a must-read for all those who are interested in Herbert Rosenfeld and the development of Kleinian thought.
Prof Heinz Weiss, head of the Medical Department and member of the Directorate of the Sigmund-Freud-Institute, Frankfurt a.M., Chair of the Education Section of the International Journal of Psychoanalysis
Table of Contents

Permissions
Acknowledgements

About the editors and contributors

Preface to the German edition
Irma Brenman Pick

Preface to the English edition
John Steiner

Introduction

Part I
Historical perspectives: biographical, conceptual-historical, and clinical-theoretical roots

1. On the biography of Herbert Rosenfeld
Karin J. Zienert-Eilts

2. My father Herbert Rosenfeld: a personal view on his life
Angela Rosenfeld

3. Herbert Rosenfeld and the distinction between "defensive" and "destructive" narcissism
Ronald Britton

4. Melanie Klein's "inner Hitler" and Herbert Rosenfeld's "Mafia": on figures of thought [Denk-Figuren] in transference and countertransference
Claudia Frank

Part II
Supervision with Herbert Rosenfeld in Europe: Italy, Germany, and France

5. Herbert Rosenfeld's contributions to psychoanalysis in light of his supervisions in Italy
Riccardo Steiner

6. Herbert Rosenfeld's significance for German psychoanalysts
Klaus Wilde

7. Supervision with Herbert Rosenfeld: reminiscences and afterthoughts
Angela Goyena

Part III
On the clinical significance of Herbert Rosenfeld: implications and further developments

8. Herbert Rosenfeld and the therapy of psychoses: a complex course
Franco de Masi

9. Adhesive transference – "The almost physical type of connection with the patient": Herbert Rosenfeld's pioneering understanding of primitive mental organisations and their transformations
Hans-Jürgen Eilts

10. A tale of a scorpion and a frog: clinical considerations and social dynamics of destructive narcissism
Carolin Haas and Nils F. Töpfer

Part IV
Socio-political applications of Herbert Rosenfeld's concept of destructive narcissism

11. Applying my theory of psychosis to the Nazi phenomenon
Herbert Rosenfeld

12. Herbert Rosenfeld's transposition of the individual into the collective: critical spurs to further thinking
Interview with Hermann Beland

13. How Herbert Rosenfeld can help us to understand Nazi perpetrators: the example of Adolf Eichmann
Wolfgang Hegener

14. Destructive narcissism and the susceptibility to "perverted containing" using the example of destructive populism: further psychoanalytical considerations
Karin J. Zienert-Eilts

Bibliography
Appendix
Index
About the Editor(s)
Wolfgang Hegener, Priv.-Doz. Dr. phil., is a psychoanalyst in private practice in Berlin, a training analyst (DPG, IPV, DGPT), and a university lecturer in cultural studies at the Humboldt University in Berlin. His main areas of interest are the Jewish roots of psychoanalysis, the psychoanalysis of anti-Semitism, and the relationship between psychoanalysis and philosophy. He has published a number of books and journal articles, and is co-editor of Jahrbuch der Psychoanalyse. His most recent book is Im Anfang war die Schrift. Sigmund Freud und die Jüdische Bibel (2023).
You may also like