Trust and Trauma: An Interdisciplinary Study in Human Nature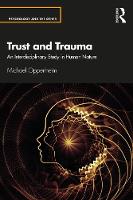 Book Details
Publisher : Routledge
Published : April 2021
Cover : Paperback
Pages : 120
Category :
Trauma and Violence
Catalogue No : 95589
ISBN 13 : 9780367458706
ISBN 10 : 9780367458
Also by Michael Oppenheim
This interdisciplinary text brings together perspectives from leading psychoanalysts and modern Jewish philosophers to offer a unique investigation into the dynamic between the fundamental trust in the self, other persons, and the world, and the devastating force of emotional trauma.
Chapters examine the challenges of witnessing and acknowledging suffering; trust in God; and the traumatic effects of the Holocaust. The result is a deeper understanding of the fundamental relationality of humans, the imperative of responsibility for the Other, the fragility of meaning, and the metaphorical powers of religious language. Authors representing two standpoints, the psychological/ psychoanalytic and the religious/ philosophical, provide key insights. Erik Erikson, Jessica Benjamin, Judith Herman, and Bessel van der Kolk support the psychological discourse, while Franz Rosenzweig, Martin Buber, and Abraham Joshua Heschel present the Jewish philosophical discourse.
This book is written for professionals and advanced students in psychoanalysis, philosophy, and Jewish and religious studies. Its accessible and engaging style will also appeal to general readers with an interest in philosophical, psychological, and religious perspectives on some of the most elemental human concerns.
Reviews and Endorsements
"Trust, so precious yet so fragile, forms for Oppenheim the crux of what psychological trauma shatters, in unexpected losses, torture, relentless humiliation, and the rest. This book will become indispensable reading for clinicians working to restore some fraction of the stability that trust in self, others, and world can provide. This work is thorough and nuanced, but still extremely readable." - Donna M. Orange, New York University Postdoctoral Program in Psychoanalysis and Psychotherapy.

"Frequently placed under the jurisdiction of psychology and neuroscience, the terms 'trauma' and 'trust' are often considered through secular frames, forgetting the rich insights and conversations within religious traditions. Oppenheim, as in his previous works, provides a gentle yet provocative call to hold discourses side-by-side and have them speak. This book allows these voices to complement one another and elevates questions that are core to human experience and struggle. Few scholars achieve what Oppenheim does in Trust and Trauma and this is a welcome addition to the interdisciplinary literature."
- David M. Goodman, associate dean; and associate professor, Counseling, Developmental, and Educational Psychology, Boston College.

"Once again, Michael Oppenheim has embarked upon uncharted territory, this time by researching and exploring relationships between two ostensibly disparate and opposing areas of human experience: trust and trauma. Through adventurous study of and engagement with the writings of key contemporary psychoanalysts and modern Jewish philosophers, Oppenheim unfolds his own unique insights and thereby evokes reflections on what, to varying degrees, we have all experienced and encountered. His clear albeit passionate style inspires in readers the courage to better and more deeply face those perennial challenges in our common quest for human meaning." - Barbara E. Galli, former Judaic Studies chair, University of Alabama.
About the Author(s)
Michael Oppenheim is a distinguished professor emeritus at Concordia University, Montreal.
You may also like