Bion: 365 Quotes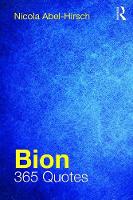 Book Details
Publisher : Routledge
Published : February 2019
Cover : Paperback
Category :
Forthcoming
Category 2 :
Psychoanalysis
Catalogue No : 40152
ISBN 13 : 9781782205869
ISBN 10 : 1782205861
Also by Nicola Abel-Hirsch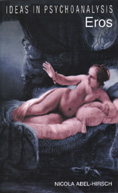 This is a book of 365 quotes from the work of the psychoanalyst Wilfred Bion. Something of an enigma, Bion often doesn't write in the way one would expect of a psychoanalyst, but is being read ever increasingly around the world, in and outside the psychoanalytic community. Certain of his comments are often quoted, whilst swathes of his work lie almost untouched. How to make some of the detail of this work available? What he writes is often dense in the way the structure of a poem can be, and the book has the format of a 'poem a day' collection - providing a way into his complete work a quote at a time. Along with commentaries by Abel-Hirsch are thoughts on Bion's work drawn from papers by other analysts from the UK, the Americas, and Europe.
The book is structured in a way that it is hoped will inform and interest the general reader as well as giving something new to psychoanalyts and others who already know his work well.
There are two indexes, a detailed conventional one and an index of first (or key) lines.
Beginning with Bion's autobiography 'The Long Weekend' the book includes quotes from the best known seminal papers of the 50's (including his Theory of Thinking); the increasingly unexpected content of the four books that followed; the International Seminars, and his novel 'A Memoir of the Future' (in which we see him relating to the turbulence his work had stirred in earlier years, and talking 'at the end of the day' still with a genius for observing human beings and how they can change - or not). Bion's more 'relaxed' writings (personal notes, letters and the novel) throw light on the more condensed comments in his books, and where appropriate the two have been put together.
You may also like