Book Details
Publisher : Routledge
Published : January 2007
Cover : Paperback
Category :
Psychoanalysis
Catalogue No : 25679
ISBN 13 : 9780415415743
ISBN 10 : 0415415748
Also by Nicola Abel-Hirsch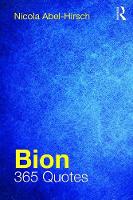 Also by Hanna Segal

Presenting a selection of the author's recent papers, this collection covers a wide spectrum of insights into psychoanalysis, ranging from current thoughts on the nature of dreaming to the psychotic factors, symbolic significance and psychological impact of September 11th, and the following war on Iraq. The development of Kleinian thought, and ideas of Bion and Freud are also discussed.
Reviews and Endorsements
The second half of the book discusses Segal's presentations to conferences and symposia from 1969 - 2000, this material is split into six sections:

* Models of the mind and mental processes
* Psychoanalytic technique
* Segal on Klein
* Segal on Bion
* Envy and narcissism
* Interviews

"Yesterday, Today and Tomorrow" is a masterly contribution to the field. Segal's clarity of thought and striking clinical illustrations make the book accessible to those new to the field as well as those acquainted with her seminal work.
About the Author(s)
Hanna Segal was born in Poland in August 1918 and studied medicine in Warsaw and Paris before qualifying at the Polish Medical School in Edinburgh in 1943. She became a psychoanalyst four years later, having trained under Melanie Klein, with Paula Heimann and Joan Riviere as her first supervisors. Dr Segal then qualified in child analysis and afterwards became a training analyst in the British Psychoanalytical Society in 1951-52. She also served as President of the British Society and Vice-President of the International Psychoanalytical Association. She was a fellow of the Royal College of Psychiatry, and was also Visiting Professor of the Freud Memorial Chair, University College, London. Her publications include Klein (1979), The Work of Hanna Segal (1981), Introduction to the Work of Melanie Klein (1988) and Dream, Phantasy and Art (1990).
You may also like