Bion: 365 Quotes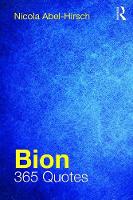 Book Details
Publisher : Routledge
Published : 2019
Cover : Paperback
Pages : 592
Category :
Psychoanalysis
Catalogue No : 40152
ISBN 13 : 9781782205869
ISBN 10 : 1782205861
Customer Reviews
Our customers have given this title an average rating of 5 out of 5 from 2 review(s), add your own review for this title.
Chris Mawson on 04/02/2019 11:44:04





(5 out of 5)
One of the quotations in this book indicates the distinction between writing a book and making one. This is a well made work-book to which the reader interested in Bion's thinking can return to again and again, not in a linear and category-bound manner but instead searching, like the title of the lost 1963 album of jazz musician Coltrane, creates the potential for reading 'from both directions at once', and so it is very definitely not simply a compilation of interesting quotations from an influential thinker. In some ways it is like an extension to Bion's posthumously published book 'Cogitations', but with added, cross-referenced and highly informative commentaries. I feel sure that it will introduce to all its readers, as it did to me, fresh perspectives on his work, as well as new information, however much has already been gleaned. It will renew interest in the autobiographical writings, which are on the whole more reliable than existing biographical works, and it may spark a renewed interest in his allusive three volume novel, The Memoir of the Future. I recommend it highly to all those seeking fertile questions in psychoanalysis.
Bob Hinshelwood on 03/02/2019 17:48:10





(5 out of 5)
This is an extraordinary book, 365 quotes from Bion's writings. It is not a very familiar format. Mostly academic and clinical writing makes a case for a particular point or view and a conclusion. And then quotations from other sources are used to strengthen or illustrate that argument. But here it is the other way around, the quotations are the groundwork from which important conclusions are then drawn.

One could say it is therefore something of an inside-out book. But, in fact I might say it is more like the clinical method itself, rather than clinical writing. In clinical work we take significant statements – dreams, certain free associations, etc – and draw out conclusions for our patients. Just as we might see Nicola drawing out significant thoughts and issues from these moments of clarity in Bion's opus.