The Soft Power of Culture: Art, Transitional Space, Death and Play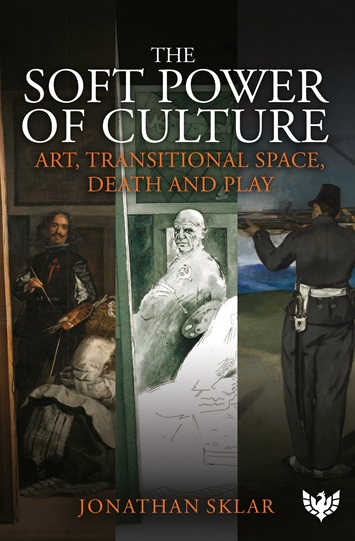 Book Details
Publisher : Karnac Books
Published : April 2024
Pages : 312
Category :
Forthcoming
Category 2 :
Psychoanalysis
Catalogue No : 97589
ISBN 13 : 9781800132481
ISBN 10 : 1800132484
Also by Jonathan Sklar
Totalitarian governments emerge from the same unconscious sadomasochistic structures that are found in the analysis of traumatised patients. Since the earliest times, art has been used as propaganda both to uphold the status quo and to subvert it. The arts as a whole connect with the individual and can open eyes and change minds. Culture is a valuable tool and one where the lack was felt keenly during lockdown when galleries, music halls, and theatres were closed. Culture begins in the child's mind. For Winnicott, it is located in the potential space between the individual and the environment as the child's mind develops its unconsciousness and capacities for play. And the ability to play, or not, is connected to the freedom to think own's own thoughts or, by preference, to follow the leader.
Jonathan Sklar investigates these themes and more through twelve stunning chapters. These include discussions of Francis Bacon's meditations on sadomasochism, linked to his fears of the rise of Hitler, and of today's world with debate seemingly missing and, in its place, the political entrenchment of hatred. There is a discourse on Cézanne's apples, always in process of falling, and a chapter on the adventuresome British painter William Tillyer, examining his art to understand the necessity for his creative drive. Sklar reflects on the analysis of a heroin addict, re-examines Freud's seminal paper 'A Child is being beaten' in relation to maternal sadism, meditates on psychosis and the true self, and considers the origins of sadomasochism and early trauma in the treatment of a schizophrenic woman. A chapter of 'early Covid writings' includes contributions from Endre Koritar, Victoria Hamilton, Philip Hewitt, Danielle Knafo, Drew Tillotson, Marcelo N. Viñar, and Wang Qian, and explores emptiness and holding on to creativity. The Bloomsbury Group and the early evolution of independence in the British Psychoanalytical Society is the focus of the penultimate chapter, and the book ends with thoughts about dancing bears – discussing our present-day problems of inner and outer reality in individuals and in societies.
Reinforced with playful appearances by Velasquez, Goya, Klee, Picasso, Arendt, Benjamin, Brecht, Huysmann, Shostakovich, Bollas, Bion, Forrester, Milner, and Enid Balint, another thread running through the book is of holding one's nerve, being alive in the moment, and realising that enactment in clinical work can be another royal road to the unconscious. Yet another is how culture can speak to hard-core power: Picasso found a way of focusing his pain(ting) Guernica to evermore pin the fascist crime to the town destroyed by the Luftwaffe. Today's crimes can also be addressed in such ways: Putin's destruction of Ukraine, totalitarian states of mind conglomerating in all continents, and the crisis of global warming.
The emptiness of the missing from early traumatic states of mind often cannot be replaced because it was never present. Yet the gap can be filled with metaphor as in storytelling, in art, music, literature, and myths, as processes to sustain recovery and new beginnings. Read The Soft Power of Culture: Art, Transitional Space, Death and Play to open your eyes and change your mind on all that culture brings.
Table of Contents
About the author
Acknowledgements
About the contributors
Prologue

1. Stranger, visitor, metaphor
2. Velasquez and the transmission of psychoanalysis
3. Francis Bacon and the radicality of free association
4. William Tillyer: against nature
5. Psychosomatic reflections in the analysis of a heroin addict
6. Revisiting "A child is being beaten": reflections on maternal sadism
7. Psychosis and the true self
8. Violence, destruction and survival regression
9. Early Covid writings
10. Bloomsbury and the early evolution of British psychoanalysis
11. Apocalyptic times and the missing debate
12. Thoughts about dancing bears—psychoanalytic thinking to understand present-day problems of inner and outer reality

Postscript
References
Notes
About the Author(s)
Jonathan Sklar, MBBS, FRCPsych, is a training analyst and fellow of the British Psychoanalytic Society. Originally trained in psychiatry at Friern and the Royal Free Hospitals, he worked for four years in psychotherapy at the Tavistock Clinic in London. For many years he was consultant psychotherapist and head of the psychotherapy department at Addenbrookes and Fulbourn hospital in Cambridge. He now works in full time analytic practice in London. He teaches and supervises at the Institute of Psychoanalysis; teaches an MSc course on 'Ferenczi and Contemporary Psychoanalysis' at University College London; and teaches in Chicago. For the past five years, he has convened a psychoanalytic conference outside Cape Town and, for thirty years, has convened Balint groups working with general practitioners and psychiatrists. He has lectured widely throughout Europe as well as in South America. His psychoanalytic papers have been published in Italian, Spanish, French, and Portuguese. From 2007-2011 he was Vice President of the European Psychoanalytic Federation.
You may also like