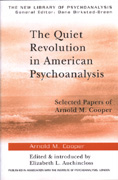 Book Details
Publisher : Routledge
Published : January 2004
Cover : Paperback
Pages : 288
Category :
Psychoanalysis
Catalogue No : 92794
ISBN 13 : 9781583918920
ISBN 10 : 1583918922
Also by Arnold M. Cooper

The selected papers of one of the leading intellectual figures in psychoanalysis, Arnold M. Cooper M.D., record his unique ability to reflect upon the process of change and help us understand not only where, but even what, psychoanalysis is.
Reviews and Endorsements
Contents: Arnold M. Cooper, M.D., Foreword. Elizabeth L. Auchincloss, M.D., Introduction. The Impact on Clinical Work of the Analyst's Idealizations and Identifications (1998). The Quiet Revolution in Psychoanalysis. Psychoanalytic Inquiry and New Knowledge (1980 [1983]). Psychoanalysis at One Hundred: Beginnings of Maturity (1982 [1984]). Psychoanalysis Today: New Wine in Old Bottles (1986). Comments on Freud's "Analysis Terminable and Interminable" (1987). The Analyst at Work. Some Limitations on Therapeutic Effectiveness: The "Burnout Syndrome" in Psychoanalysis (1982 [1986]). Difficulties in Beginning the Candidate's First Analytic Case (1985). Changes in Psychoanalytic Ideas: Transference Interpretation (1985 [1987]). Some Thoughts on How Therapy Does and Doesn't Work (1989 [1991]). Formulations to the Patient: Explicit and Implicit (1995 [1994]). Vicissitudes of Narcissism. The Narcissistic-Masochistic Character (1973 [1988]). The Unusually Painful Analysis: A Group of Narcissistic-Masochistic Characters (1981 [1986]). What Men Fear: The Facade of Castration Anxiety (1985 [1986]) The Unconscious Core of Perversion (1989 [1991]). Paranoia: A Part of Most Analyses (1991 [1993]). Challenging the Boundaries of Psychoanalysis. Will Neurobiology Influence Psychoanalysis? (1984 [1985]). Infant Research and Adult Psychoanalysis (1988 [1989]). Psychoanalysis and Psychotherapy: The Same or Different? (1990). Discussion on Empirical Research (1993).

You may also like