Lacanian Psychoanalysis: Revolutions in Subjectivity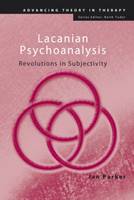 Book Details
Publisher : Routledge
Published : January 2010
Cover : Paperback
Pages : 248
Category :
Lacanian Psychoanalysis
Catalogue No : 29945
ISBN 13 : 9780415455435
ISBN 10 : 041545543X
Also by Ian Parker


Jacques Lacan's impact upon the theory and practice of psychoanalysis worldwide cannot be underestimated. Lacanian Psychoanalysis looks at the current debates surrounding Lacanian practice and explores its place within historical, social and political contexts. The book argues that Lacan's elaboration of psychoanalytic theory is grounded in clinical practice and needs to be defined in relation to the four main traditions; psychiatry, psychology, psychotherapy and spirituality. As such topics of discussion include: the intersection between psychoanalysis and social transformation; a new way through deadlocks of current Lacanian debate; and, a new approach to 'clinical structures' of neurosis, perversion and psychosis. Lacanian Psychoanalysis draws on Lacan's work to shed light on issues relevant to current therapeutic practice and as such it will be of great interest to students, trainees and practitioners of psychoanalysis, psychotherapy, counselling and other domains of personal and social change.
Reviews and Endorsements
'Ian Parker has given us an elegant marriage of revolutionary discourses: Lacan, of subjectivity; Marx, of society and the human condition. Neither side absorbs the other, and the psychoanalytic project is advanced without lapsing into conformism.'
- Joel Kovel, formerly Distinguished Professor of Social Studies at Bard College, New York

'Here is a very interesting book that studies in a rigorous way, and with social psychological methods, the clinical practice of Lacanian psychoanalysts. An original approach to the question.'
- Elisabeth Roudinesco, Director of Research in History, University of Paris-Diderot

'This book elucidates why and how revolution should necessarily be the origin of the power of the subject, making us revolve now around the two foci: inside and outside the clinic, and thus through any possible Lacanian universe of discourse.
- Kazushige Shingu, Professor of Human and Environmental Studies, Kyoto University

'At last, a book series that will help to make the ideal of effective continuing professional development in the fields of psychotherapy and counselling more of a reality. Without being partisan or requiring an unrealistically high level of existing knowledge, the books offer a unique opportunity for experienced practitioners and advanced students to encounter the cutting edge of theory in their particular theoretical model.'
- Andrew Samuels, Professor of Analytical Psychology, University of Essex

Contents:
Introduction. Framing Analysis. Psychiatrising Speech. Psychoanalytic Psychology. Distributed Selves. Psychotherapeutic Capital. Reflexive Recuperation. Mapping Lack in the Spirit. A Clinic in the Real. References.
About the Author(s)
Ian Parker is Professor of Psychology in the Discourse Unit at Manchester Metropolitan University, UK. He is widely published, and his books include The Crisis in Modern Social Psychology (1989), Psychoanalytic Culture: Psychoanalytic Discourse in Western Society (1997), Critical Discursive Psychology (2002), Slavoj Zizek: A Critical Introduction (2004) and Psychoanalytic Practice and State Regulation (2008).
You may also like