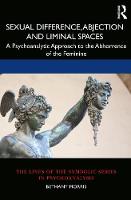 Book Details
Publisher : Routledge
Published : July 2020
Cover : Paperback
Pages : 142
Category :
Psychoanalysis
Catalogue No : 95177
ISBN 13 : 9780367173395
ISBN 10 : 9780367173
This book uses an interdisciplinary approach to explore the ways in which sexual difference can be understood as an encounter with otherness through the abjected, investigating social discourses and unconscious anxieties around "monstrous" women throughout history and how they may challenge these characterizations.
The author expands on Barbara Creed's notion of the monstrous-feminine to give a specifically Lacanian analysis of different types of feminine monsters, such as Mary Toft, Andrea Yates, Lillith, and Medusa. Drawing on Lacan's theory of "sexuation," the book interrogates characterizations of pregnant women during the Enlightenment, women who commit filicide, mothers in the psychoanalytic clinic, and women with borderline personality disorder. Chapters explore how encounters with a feminine subject in the Lacanian sense can manifest in misogynistic practices aimed at women, as well as how a Deleuzian notion of becoming-other may pose a challenge to their interpretation in a phallocentric meaning-making system. Creatively engaging the work of both Jacques Lacan and Gilles Deleuze, the text goes beyond simply identifying misogynistic practices by probing the relational, unconscious dynamics between hegemonic groups and those designated as "other."
Approaching the concept of the borderline from a critical and transdisciplinary perspective, this text will appeal to postgraduate students and researchers from Lacanian psychoanalysis, gender studies, cultural studies, and critical psychology.
Reviews and Endorsements
"Even given the promises of queer theory, it is wonderful that an author returns to generative fields of feminism, sexual difference, psychoanalysis, and feminine desire. The book's ideas are vibrant, unexpected, outside traditional feminist disputations, but without giving up sexuality, desire or a feminist project. Interrogating feminine desire is imperative, leaving Woman to prescriptive Jungian avatars is too dangerous in these times where culture commodifies identities and desire with such startling speed and normative results." Kareen Malone, Professor Emerita of Psychology, University of West Georgia, USA and program co-chair of the Atlanta Psychoanalytic Society.

"Dr. Morris provides an innovative and much-needed intervention into the relation of psychoanalysis to contemporary thought on gender and sexuality. In this nuanced and carefully thought exploration of women as monstrous in this late-stage capitalist society, she extends, explicates, and entangles the psychoanalysis of Lacan with extensions of his work in interlocutors such as Kristeva and Ettinger. Morris opens new avenues for us to think about the way we see women as monstrous across different sociohistorical contexts. Developing the work of immanent theorists such as Deleuze and Guattari, as well as Braidotti, she engages the possibility that social anxiety in response to the female as inherently aberrant may indicate 'an almost ungovernable excess between the assumed norm and the identified other'. In this rich reading of gender, sexuality, culture, and abjection, Morris delves into horror films, literature, feminist psychology, psychoanalysis, and cultural studies. This incisive and insightful book is well worth the journey." Kathleen Skott-Myhre, Associate Professor of Psychology, University of West Georgia, USA.
About the Author(s)
Bethany Morris is Assistant Professor of Psychology at Lindsey Wilson College. She has her PhD from the University of West Georgia, USA and her research interests include Lacanian psychoanalysis, discourse analysis, and gender and sexuality.
You may also like