Psychoanalytic Perspectives on Illegitimacy, Adoption and Reproduction Technology: Strangers as Kin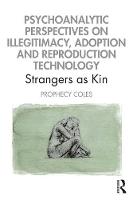 Also by Prophecy Coles
In this book, Prophecy Coles traces the existential history of the unwanted child with particular attention to the illegitimate child, linking myth, literature and clinical practice in the historical and legal context of adoption.
From the time of the Reformation in the sixteenth century until the early twentieth century the lives of such children were short-lived. The Adoption Act of 1926 did much to change the moral climate and the fate of the illegitimate child. It provided the child with a legal family and a name. There follows some unexpected difficulties that emerged after World War Two. Adopted children did not necessarily thrive, and young mothers who had been forced to give up a child born out of wedlock revealed their suffering. The sealed records of the illegitimate child's origins became an issue. Attachment theory and the development of neuroscience underpin the theoretical approach of this book. Today, the children who are available for adoption are older and may be distressed by several years in care. Fundamental to helping these adopted children and their families there needs to be a multi-disciplined therapeutic approach to try and mitigate the damage that has often been done to the early infant brain through trauma. This book brings to life some of the adoption issues through the study of personal memoirs. Each chapter considers adoption from a different angle: the adopted child, the birth mother, the birth father, foster parents and adopting parents. The final chapter discusses some of the problems around adoption that have arisen again with reproductive technology and surrogate mothering.
This book will be of interest to all those who have been involved in or affected by adoption. It will be of special interest to those adopting parents who have not been properly prepared or supported in their magnificent work of taking on some of the most troubled children in our society.
Reviews and Endorsements
"This remarkable book provides a riveting historical account of British society's evolving understanding of not only mothers' but also fathers' painful experience of giving up a child to adoption. Prophecy Coles has succeeded yet again in vividly conveying the emotional impact of being a child existing for 9 months in a mother's womb only to face anxieties of separation from her and the father and placed in the care of others. It seems imperative that professionals and both natural and adopting parents and their offspring develop an understanding of adoption which this important book provides." - Jeanne Magagna. Former head of Psychotherapy Services at Great Ormond Street Hospital and former Consultant to Family Futures Adoption and Fosterning Consortium


"With wisdom, and deep clinical and life-experience, Prophecy Coles has delivered an evocative and thought provoking text on the important subject of adoption. Her unique personal voice shines though, as she weaves tales which are moving and peppered with understandings from literature, history, politics and psychotherapy, and most importantly, are infused with a heartfelt and compassionate appreciation of the complex issues that adoption raises." - Graham Music. Consultant and Child Psychotherapist at the Tavistock and Portman Clinic.


"This sensitive book by an experienced psychoanalytic psychotherapist, Prophecy Coles, extends her fascination with the sad chances the newborn infant can suffer. It is extraordinary that early disruption has for so long been overlooked as a serious life event for the infant, and for the child and adult that he/she becomes. Such long-term effects have perhaps been intuitively known – as the book conveys a cow losing its calf is a crisis even a child can know deeply. Coles does face us with the stunning disadvantage and prolonged distress of adoption. We want so much to create an advantage for the dispossessed that the disturbance gets silently shoved away into a dark cupboard and can only with long persistence be taken out and looked at again. This book can help keep the difficult-to-face in front of us and recognise how profoundly we have always wanted to hide it. Surely all care workers need to use it in the care they provide for people they support." - Bob Hinshelwood. Fellow of the British Psychoanalytic Society, former Emeritus Professor in the Department of Psychosocial and Psychoanalytic Studies, University of Essex.

"This is a timely book, as Adoption Services are structurally and bureaucratically being reorganised. In the confusion and chaos that inevitably follows, it is easy to forget that adoption is ultimately a relational experience. This well researched book looks at the attachment relationships, for all parties involved. Attachment is  the touchstone of that experience and Prophecy adds depth, history and neuroscience to enrich our understanding of that experience. She also adds her clinical experience and that of others, to add to the narrative. A very rich and rewarding read. " - Alan Burnell. Co-founder and Director of Family Futures.


About the Author(s)
Prophecy Coles trained as a psychoanalytic psychotherapist at the Lincoln Clinic and is a member of the London Centre for Psychotherapy. She has worked as a psychotherapist for 30 years and has published widely on sibling relationships, family and transgenerational conflict.
You may also like