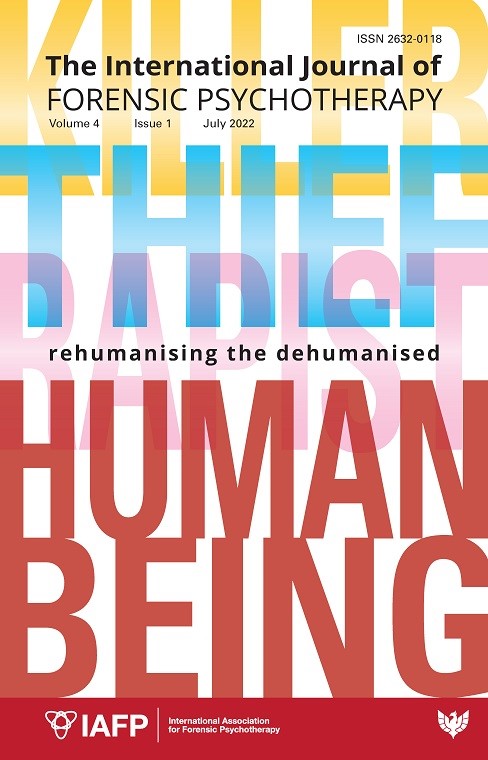 Book Details
Publisher : Phoenix Publishing House
Published : July 2022
Cover : Paperback
Pages : 98
Category :
Forensic
Category 2 :
Journals & Periodicals
Catalogue No : 97250
Also by Carine Minne
Also by Annie Pesskin
The International Journal of Forensic Psychotherapy (IJFP) is a brand-new journal launched in 2019. It is published in conjunction with the International Association for Forensic Psychotherapy and its avowed aim is to "Re-humanise the de-humanised".
This will be a leading-edge journal that promotes the health of offenders and victims through the use of psychotherapeutic understanding, risk assessment, and treatment techniques, and will also advance understanding about forensic psychotherapeutic practice.
Table of Contents
EDITORIAL by Carine Minne and Annie Pesskin

ARTICLES
– Can theories on complex trauma and attachment make room for Garwood's concept of a psychic guardian? by Leslie Lothstein
DOI 10.33212/ijfp.v4n1.2022.1

– A ninety-year history of the Portman Clinic by Moya Sarner
DOI 10.33212/ijfp.v4n1.2022.12

– A commentary on Carine Minne's paper, 'Fuses igniting in the consulting room' by Konstantin Nemirovsky
DOI 10.33212/ijfp.v4n1.2022.21

– The eroticisation of gaze in the psychoanalytic treatment of a paedophile by Raffaella Hilty
DOI 10.33212/ijfp.v4n1.2022.24

– Defence mechanisms in crime narratives of psychopathic violent offenders by Jochem Willemsen
DOI 10.33212/ijfp.v4n1.2022.37

– An interview with an inspiring lawyer who is pursuing "smart justice" by Annie Pesskin
DOI 10.33212/ijfp.v4n1.2022.52

REGULAR ARTICLE
– A day in the life of an expert by experience
DOI 10.33212/ijfp.v4n1.2022.59

BOOK REVIEWS
– Of Fear and Strangers: A History of Xenophobia by George Makari
Reviewed by Professor Brett Kahr
– The Race Conversation: An Essential Guide to Creating Life-changing Dialogue by Eugene Ellis
Reviewed by Stuart Stevenson
About the Editor(s)
Carine Minne is a Fellow of the Royal College of Psychiatrists and a psychoanalyst with the British Psychoanalytical Society. Since almost twenty-five years, she has worked as Consultant Psychiatrist in Forensic Psychotherapy within the UK's public health system, the NHS, based at the Portman outpatients' clinic and Broadmoor high security hospital. She is the current President of the IAFP, co-editor of the IJFP and Chair of the IPA Violence Committee.
You may also like