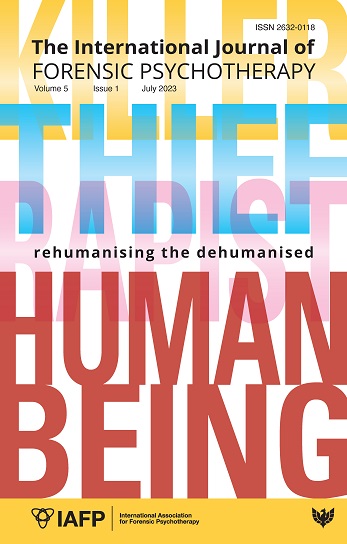 Book Details
Publisher : Phoenix Publishing House
Published : July 2023
Cover : Paperback
Pages : 88
Category :
Forensic
Category 2 :
Journals & Periodicals
Catalogue No : 97252
Also by Carine Minne
Also by Annie Pesskin
The International Journal of Forensic Psychotherapy (IJFP) is a brand-new journal launched in 2019. It is published in conjunction with the International Association for Forensic Psychotherapy and its avowed aim is to "Re-humanise the de-humanised".
This will be a leading-edge journal that promotes the health of offenders and victims through the use of psychotherapeutic understanding, risk assessment, and treatment techniques, and will also advance understanding about forensic psychotherapeutic practice.
Table of Contents
EDITORIAL by Carine Minne and Annie Pesskin

ARTICLES
– "Big, Black, and Dangerous": primal scene of racial trauma? by Anne Aiyegbusi
DOI 10.33212/ijfp.v5n1.2023.1

– Commentary on Anne Aiyegbusi's " 'Big, Black, and Dangerous': primal scene of racial trauma?" by Abdullah Mia
DOI 10.33212/ijfp.v5n1.2023.20

– Gandalf's mother and other stories: the dark side of forensic psychotherapy by Jim Rymer
DOI 10.33212/ijfp.v5n1.2023.24

– Without memory, desire, or sex: contemplating the incel identity by James Sterritt
DOI 10.33212/ijfp.v5n1.2023.35

– Morbid jealousy and destructive envy—considerations from a case history by Carine Minne
DOI 10.33212/ijfp.v5n1.2023.45

REGULAR ARTICLE
– A day in the life of an expatriate psychotherapist by Natalya Frolova
DOI 10.33212/ijfp.v5n1.2023.59

BOOK REVIEWS
– Stitched Up: Stories of Life and Death from a Prison Doctor by Dr Shahed Yousaf
Reviewed by Muzaffar Husain
– The Brain has a Mind of its Own: Attachment, Neurobiology, and the New Science of Psychotherapy by Jeremy Holmes
Reviewed by Gwen Adshead

ART REVIEWS
– Tar
Reviewed by Cleo Van Velsen
– Jeffrey Dahmer: from neurocriminology to castration anxiety
Reviewed by Brett Kahr
About the Editor(s)
Carine Minne is a Fellow of the Royal College of Psychiatrists and a psychoanalyst with the British Psychoanalytical Society. Since almost twenty-five years, she has worked as Consultant Psychiatrist in Forensic Psychotherapy within the UK's public health system, the NHS, based at the Portman outpatients' clinic and Broadmoor high security hospital. She is the current President of the IAFP, co-editor of the IJFP and Chair of the IPA Violence Committee.
You may also like