Systemic Therapy and Attachment Narratives: Applications in a Range of Clinical Settings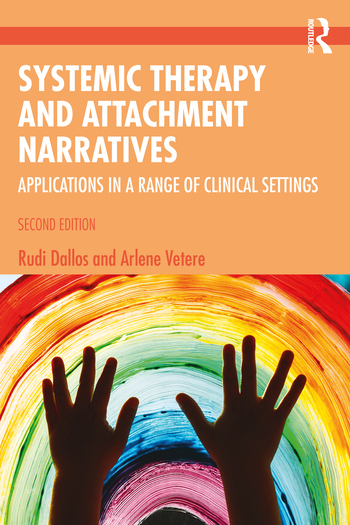 Also by Rudi Dallos
Also by Arlene Vetere
Systemic Therapy and Attachment Narratives explores how attachment-based ideas can be used in clinical practice by offering a practical and sophisticated exposition of clinical approaches.
This new edition offers an updated overview of the integrations of attachment, systemic and narrative theory, and practice incorporating key developments in developmental trauma, intergenerational trauma, and neuroscience of the emotional brain. It shows how early emotional experiences set the tone of the narratives we develop about our lives and how these in turn shape our emotional connections. This edition is more oriented towards activities and features more visual representations of problematic patterns of interaction, showing their significance for the family members. It also uses clinical examples to provide guidance on using attachment narrative therapy in different clinical contexts and with various client groups.
The book provides practical guidance for a range of mental health professionals including family therapists, child, adolescent and adult psychotherapists, clinical psychologists, and social workers, enabling them to apply this approach in a range of contexts.
About the Author(s)
Rudi Dallos is Programme Director and Professor in Clinical Psychology on the Plymouth University doctoral training course in clinical psychology. He is also a consultant clinical psychologist and teaches on several family therapy training courses. He has published a number books including Researching Psychotherapy and Counselling (2005, co-written with Arlene Vetere), Attachment Narrative Therapy (2006) and Reflective Practice in Psychotherapy and Counselling (2009, co-edited with Jacqui Stedmon).
Arlene Vetere is Deputy Director of Clinical Psychology Doctorate training at Surrey University and a family therapist, registered with the UKCP. She is also President of the European Family Therapy Association.
You may also like