Art Therapy, Trauma, and Neuroscience: Theoretical and Practical Perspectives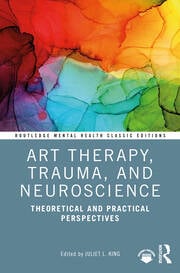 Also by Juliet L. King
Art Therapy, Trauma, and Neuroscience combines theory, research, and practice with traumatized populations in a neuroscience framework. The classic edition includes a new preface from the author discussing advances in the field.
Recognizing the importance of a neuroscience- and trauma-informed approach to art therapy practice, research, and education, some of the most renowned figures in art therapy and trauma use translational and integrative neuroscience to provide theoretical and applied techniques for use in clinical practice. Graduate students, therapists, and educators will come away from this book with a refined understanding of brain-based interventions in a dynamic yet accessible format.
Reviews and Endorsements
"This volume captures an array of trauma-related topics and clinical wisdom that demonstrate our ever-growing understanding of the interface of art therapy approaches and neuroscience. The authors thoughtfully apply their knowledge of visual art and the brain to build a bridge that links expressive work with how sensory-based, practical techniques can help heal body and mind. Art Therapy, Trauma, and Neuroscience definitely opens up a conversation about brain-based interventions for creative arts therapists and professionals in related fields interested in applying these principles in work with a variety of populations." - Cathy Malchiodi, PhD, LPCC, LPAT, ATR-BC, REAT, executive director of the Trauma-Informed Practices and Expressive Arts Therapy Institute in Louisville, Kentucky.

"As the knowledge base about brain function has expanded, so too has our scope of practice in art therapy. For years I have seen cognitively impaired and traumatized patients seem to improve attention, integration, memory, and resilience through the art-making process; now there are clear links showing how art therapy remediates these parameters. I applaud Ms. King's book, which demystifies neuroscience and enlightens the contribution of art therapy as an effective treatment." - Irene Rosner David, PhD, ATR-BC, LCAT, HLM, director of therapeutic arts at Bellevue Hospital Center in New York City.

"This timely book offers excellent examples of various applications of scientific knowledge to the practice of art therapy. A valuable contribution to the profession, this volume will enhance the readers' understanding of art therapy and trauma and the facilitation of change inherent in art therapy treatment." - Linda M. Chapman, MA, ATR-BC, director of the Art Therapy Institute of the Redwoods, Redwood Valley, California.

"Art Therapy, Trauma, and Neuroscience contains a wealth of information that can be utilized by art therapists working with clients recovering from trauma. It provides an accessible and accurate overview of current concepts in neuroscience, along with a wide variety of conceptual frameworks and models for understanding the relationship between neuroanatomical functions associated with visual expression and those involved in trauma and recovery. The included case studies provide clear examples of how each model informs individualized art therapy work." -Christianne E. Strang, PhD, ATR-BC, research instructor in the department of psychology at the University of Alabama, Birmingham.
About the Editor(s)
Juliet L. King is an associate professor of art therapy at The George Washington University and adjunct associate professor of neurology at the Indiana University School of Medicine. She is currently pursuing doctoral studies in translational health sciences.
You may also like