Subject of Psychosis: A Lacanian Perspective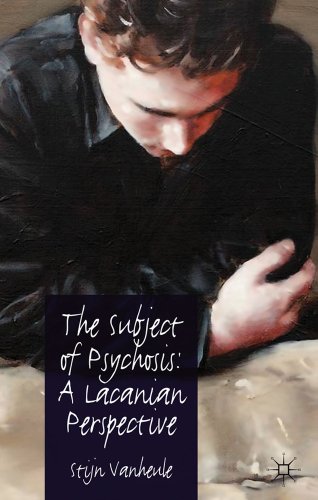 Book Details
Publisher : Palgrave
Published : January 2011
Cover : Hardback
Pages : 208
Category :
Lacanian Psychoanalysis
Catalogue No : 32688
ISBN 13 : 9780230276642
ISBN 10 : 0230276644
Also by Stijn Vanheule
The entire legacy of Jacques Lacan is permeated by his deep interest in psychosis and psychotic phenomena. This book examines Lacan's contribution to our understanding of psychosis, proposing that his work can best be framed in terms of four broad periods. Each period contains a different set of key concepts, together with a number of crucial texts containing references to psychosis. Stijn Vanheule explains the precise meaning of these concepts and their implication for the clinic of psychosis, focusing on Lacan's discussion of clinical cases and literary works, and his critical dialogue with related disciplines such as psychology, psychiatry, philosophy, and linguistics. Synthesising ideas from Lacan's entire oeuvre, this book sheds light on the evolution of his theory and provides a valuable tool for students and scholars.
Reviews and Endorsements
Contents:
Acknowledgements
Introduction

PART I: FIRST ERA: THE AGE OF IMAGINARY IDENTIFICATION
Psychosis as a Disorder at the Level of the Imaginary
PART II: SECOND ERA: THE AGE OF THE SIGNIFIER
Towards a Structural Study of Psychosis
Foreclosure and its Vicissitudes
A Novel Approach to Hallucinations
Delusions Scrutinized
PART III: THIRD ERA: THE AGE OF THE OBJECT A
The Object a and Jouissance in Psychosis
PART IV: FOURTH ERA: THE AGE OF THE KNOT
Psychosis within the Logic of Knotting and Linking

Bibliography
Index
About the Author(s)
Stijn Vanheule is Associate Professor in the Department of Psychoanalysis and Clinical Consulting at Ghent University, Belgium, and a Clinical Psychologist and Psychoanalyst in Private Practice. He is the author of multiple papers on Lacanian and Freudian psychoanalysis, psychoanalytic research into psychopathology, and clinical psychodiagnostics.
You may also like