Bion and Being: Passion and the Creative Mind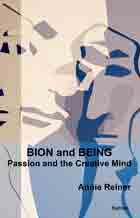 Book Details
Publisher : Routledge
Published : April 2012
Cover : Paperback
Pages : 192
Category :
Psychoanalysis
Catalogue No : 30110
ISBN 13 : 9781855758544
ISBN 10 : 1855758547
Also by Annie Reiner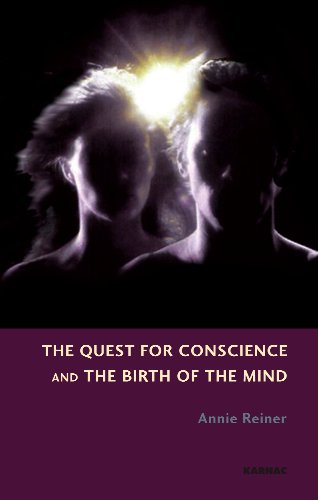 With his concept of "O," Wilfred Bion provided a new psychoanalytic space in which to explore the mind. Dr Annie Reiner's new book, Bion and Being: Passion and the Creative Mind, examines the similarities between this psychoanalytic space and the artist's creative sensibility, as well as mystical and religious states. This most mysterious and revolutionary of Bion's analytic ideas reflects what is essentially a state of being, an experience of mental integrity and union between emotional and rational functions of the mind which is the basis of thinking and creativity. In an effort to provide emotional understanding to Bion's theoretical ideas, Dr Reiner uses examples of artists, poets, writers, theologians, and philosophers, including Rilke, Cummings, Shakespeare, Beckett, and Nietzsche, to illustrate these psychoanalytic concepts. She also presents detailed clinical examples of patient's dreams to explore the obstacles to these states of being, as well as how to work clinically to develop access to these creative states.
Reviews and Endorsements
'Fresh from the recent publication of her first book, The Quest for Conscience and the Birth of the Mind, a remarkable work in its own right, Dr Annie Reiner has written an outstanding follow-up work. Noting the paradox in the enormous popularity of Bion's works existing side-by-side with great mystery and confusion about their meaning, she lucidly and astutely plunges into the centre of his most recondite discovery, transformations in and from "O", relating them to others of his more complex ideas. Furthermore, she presents numerous clinical examples that aptly reflect many of these ideas. This is an incredibly credible work which, along with her first book, places her high among Bion scholars.'
- Dr James Grotstein, Los Angeles

'The clinician and the poet come together in this lucid presentation of Bion's central thinking about the nature of Being. With uncommon erudition and deep clinical experience, Reiner brings the abstract to life in a work filled with apt clinical vignettes and sensitively chosen poetry. Bion, properly, is not made easy, but he is made more accessible.'
- Dr Warren Poland, Bethesda, MD

'In this remarkable book, Dr Annie Reiner helps us open our bodies, hearts, and souls to our own unique emotional discovery of Bion's "O". She does this by sharing her own personal odyssey with poetry, music, literature, philosophy, theology, science, in addition to her work as a psychoanalyst engaged with her analysands in the intimate discovery of their authentic selves. Dr Reiner's writings are organic, practical, spiritual, and, as usual, very scholarly. She effectively explores the frontiers of Bion's perspective of analysis in a creative way, and adds an important new voice of depth and understanding to psychoanalytic theory and practice, which should be useful to all theoretical and clinical points of view. This book is a "MUST" read.'
- Dr James Gooch, Los Angeles

'Dr. Annie Reiner's exceptional new book, Bion and Being: Passion and The Creative Mind, is that rare analytic work that combines thoughtful reflections on the nature of being, moving clinical vignettes, philosophical discussion, exploration of art and poetry, and explication of psychoanalytic theory into a wonderfully written meditation on the nature of O. Of course, given that O is unknowable, the reader is left substantially moved by the book without quite knowing how to define O but having had an experience of what Bion called "becoming in O." Reiner is perfectly suited to examine the essence of O... In addition to having studied with Bion in the 1970's, she is a practicing psychoanalyst in Los Angeles as well as a painter, poet, playwright and author-illustrator of children's books.

This book is divided into 10 well-written chapters that have an additive effect of deepening the reader's immersion into this subject matter... Being and non-being is a central theme in this book and she contrasts Freud's and Bion's views on this matter.

In summary... Reiner provides her audience with an opportunity to glimpse Bion's concept of O through reference to clinical work, the arts and, finally, an immersion in an experience at the edge of what is known and unknown. I recommend it for therapists and psychoana;lysts at all levels of training for there is much richness here awaiting the reader.'
- Lawrence J. Brown, Int. J. Psychoanal, Vol 95, Number 5, Oct, 2014
About the Author(s)
Annie Reiner, PhD, PsyD, LCSW, is a senior faculty member and training analyst at the Psychoanalytic Center of California (PCC) in Los Angeles. Her work was profoundly influenced by the ideas of Wilfred Bion, with whom she studied in the 1970s. Her writings appear in numerous journals and anthologies, and she is author of Bion and Being: Passion and the Creative Mind, an examination of Bion's concept of O through philosophy, theology and the arts, and The Quest For Conscience and the Birth of the Mind. Dr Reiner is also an accomplished poet, playwright, and painter, with four books of poems, a book of short stories, and six children's books which she also illustrated. She maintains a private practice in Beverly Hills, California.
You may also like